April 19 threw 24 fishing aboard the Hooked Up
Capt. Taco Perez
April 27, 2009
Fort Lauderdale - Saltwater Fishing Report

April 20
Today we started out fishing with Tom, Eric, Steve and Mike. We started out by getting some live bait from the bait boat so that we could do a couple of different types of fishing. (And it turned out to be the right thing to do)
We started out trolling down the reef with three baits on top and two baits down deep on our planners. We were hoping that the king fish or the bonitos would bite so we could put a few fish in the box before we started kite fishing. We were in for a pleasant surprise not only were the kings biting they were biting the bottom out of the boat. I'm not sure how many we ended up catching but everyone got to catch fish and we had plenty in no time.
Ok now that the skunk is out of the box time to try for the big one.
We set out our kites with the live baits suspended from them and waited for the big bite. And it finally came we had a sail fish come in hot on one of our kite baits and before we knew it we were Hooked Up. Tom jumped in the chair and the fight was on. It took Tom a good 15 minuets' to finally get his fish to the side of the boat. They got a couple of quick pictures of Tom's catch and we all watched him swam away in good shape to fight another day.
Way to go Tom
As we pulled up to the dock to drop off our morning trip we had our afternoon trip waiting for us and they heard we had a great morning and they were looking to do the same.
We had John, Doug, Angle and Rick eager to try their luck. We figured that we had done good in the morning so if it ant broke don't fix it.
We did the same thing we started out trolling caught a box full of king fish and set our kites right back out there. Could we get LUCKY again??
YES WE CAN and this time Doug got in the chair and once again the fight was on. It was a great battle for over 25 minutes with this one but at last Doug got him to the side of the boat. A couple of quick pictures and he swam away in great shape.
Thanks to all of our anglers today it was a blast for everyone us included.
Those of you out there just thinking about coming down to South Florida to do a little Fishing NOW is the time SPRING is here and the bite is on so give us a call and we can even help you out finding a hotel, dinner reservations the boat hell you don't even need to rent a car we will pick you up. So stop wishing and let's go fishing.
Captain Taco (954) 764-4344 or toll free (877) SEA-4344
April 21
Today we did not have a fishing charter set up but at the last min we got a call from a Ted out of Boca Florida and said that he had his good friend in town Scott out of New York and that he wanted to get him out fishing before he headed back home. Well we were more than happy to get this call. As it turned out Scott has a couple of charter boats of his own back home and both of these guys do a lot of fishing.
So off we went to do a bit of deep sea fishing off the coast of Fort Lauderdale. We got some live baits from the bait boat to try our luck at some sail fishing later in the trip but first we wanted to see if the king fish were still biting. (AND THEY WERE) It took no time at all and we had our limit. We kept trolling for a while after catching our limit and we just started throwing them back. (A problem I wish we had more often)
After we had had enough of throwing fish back we set out our kites with live baits suspended from them to see if we could try to catch a sail fish. While we never did see a sail fish we did have sharks kept swimming up trying to eat our live baits. We had our live baits on small rods with 25 pound test with # 6 wire and the leaders and the of catching one of these sea monsters with this light tackle were slim. So we set out one big dead bait on the right stuff. And once again here comes a big shark we reeled our little baits up in the air so he could not get to it and tried to get the big bait in front of him. The shark had his mind maid he wanted a little live bait but what we did not see was that there was another shark and this one got to one of our live baits on the light tackle. We were HOOKED UP AND THE FIGHT WAS ON.
Ok so Ted jumped in the chair and was ready for battle. Ted fought this fish for a few min but he decided he did not want to stay on the boat all night and fight this losing battle so HE decided to push the drag on the reel all the way up and make it or break it. And well yes we broke him off but we all had a ball doing it.
Ted and Scott thanks again for great time fishing and I know what boat you will be calling next time.
See ya soon.
Captain Taco (954) 764-4344 or toll free (877) SEA-4344
April 22
Today we set out on a 4 hour fishing trip with Troy and Wayne from Columbus Mississippi.
We knew that we were looking for some big game so we went right out to 350 feet of water and put out one dead king fish about 2 feet from the surface and connected it to a balloon and sent it out far back behind the boat. Than we sent another dead king fish down about 150 feet down and once again connected it to a balloon and set it out about half way as far as the fist bait behind the boat last but not least we sent one more dead king down to the bottom 350 feet down. The trap was set but Captain Jay Jay wanted to try to set more baits out there. We did not really have enough wind to fly our kites so Jay Jay suggested trying to put out just one kite with just one live bait suspended from it. As it turned out he was right we did have just enough wind for that one kite with just one bait. I guess that is better than no live baits out there. We had to put the live bait out of the kite so that he would not be able to swim around all the other baits we had out there.
Anyway the baits were out and the trap was set. Now all we needed was the bite. After about 30 minuets' of waiting we had a little bird land on one of the rods sat there for a couple of seconds and then just flew off. That was the sign and I told them watch that rod something is going to happen.
(AND IT DID) Shortly thereafter that rod bent over and line was just screaming off the reel WE WERE HOOKED UP. Troy jumped in the chair and the fight was on. It seemed every time Troy got the fish coming our way 10 feet the fish would get pissed off and take 50 feet off the reel. After a good 40 minutes of this tug a war Troy finally got this hammer head shark to the side of the boat. At this point Jay Jay and I reached over the side of the boat opened the tuna door in the back of the boat and slid him in. We got all the hooks out of him got a quick measurement a few pictures and slid him right back out the door and we all watched him swim away in great shape.
Ok one down and one to go At this point we had lost all the wind and we could no longer keep our kite flying so in came the kite and we were left with just our 3 dead shark baits out there. Shortly after bring in our kite we noticed our middle bait that was connected to one of the balloons was starting to bob up and down hard in the water.
This time Wayne got in the chair and reeled in the bait with a four and a half foot silky shark hooked on the other end.
Nice catch but not what Wayne was looking for.
We were running out of time so we talked about the fishing and what some of the other boats had seen or had caught and the decision was made to extend our trip for another couple of hours. We had seen a couple of sail fish free jumping but we had no wind to fly our kites and the live baits we had were not a very good bait for slow trolling. We decided instead to slow troll some dead ballyhoo and see if we could find some dolphin fish for dinner and maybe catch a sail fish on dead bait.
We went slow trolling for over an hour without a bite but the good news was the wind was picking up a bit and we thought we might be able to fly our kites.
So we brought in all of our trolling baits and switched over to kite fishing with our live baits suspended from them. We waited for over an hour with our kites up without a bite and before that we had trolled for over an hour without a bite.
Needless to say I was starting to get a bit worried and I knew that I had talked them into staying longer so I needed a bite and soon.
Then I heard Jay Jay yell out there he is on the left long bait. I don't know how he seen it but he seen it way before the sailfish even got close to the bait. Ok so now we've got a sailfish up and looking at one of our baits but this fish was just not going to eat this bait. We tried pulling the bait away from him and tried pulling the bait up in the air and letting it splash back down in the water no matter what we tried this fish was just not going to eat this bait. At this point Jay Jay had the rod out of the rod holder and was holding it in his hands and we could no longer see the sail fish back there. All of a sudden the same fish came in like a freight train after our right short bait. This time he was going to eat. Jay Jay had his hands full because he still had the other rod in his hands. So he looked up at me a yelled CATCH and threw the rod at me. Now I had this rod in my hands Jay Jay grabbed the rod the fish was trying to eat and Jay Jay yelled out go ahead go ahead and this fish came up jumping charging the boat. Remember I had the rod in my hands so as quick as I could I throw the rod in one of the rod holders up on the bridge and go ahead hard with the boat trying to get away from this fish that just kept charging the boat so we could not get the line tight on him and hopefully hook him.
(Wait it gets better)
Just as we come tight with the fish and the boat is screaming ahead Jay Jay starts yelling at me to back down back down. What happen was that when the fish was jumping at the boat and Jay Jay was reeling as quick as he could to get the line tight it got wrapped around the rod tip and now the fish was jumping away from the boat.
(Wait it gets even better)
In order for Jay Jay to get the line unwrapped from around the rod tip he had to put the reel in free spool for just one second and one second was all it took for us to end up with a big birds nest on the reel and the line wrapped around the tip of the rod at the other end. (Holly crap) All I could do was to back down on this fish as hard as I could and just stay right on top of him for as long as I could and just pray that Jay Jay could get everything untangled. I don't know how he did it so fast but he got everything untangled and we got Wayne in the chair and hell we just might have a shot at catching this fish after all.
The fight was not over yet in fact it just got started and Wayne had his hands full with this one. Believe it or not this fish that just 2 minutes ago was about to jump in the boat was now so far from the boat that we were about to run out of line on the reel. So we had to back down hard on the fish and after a good 25 minutes Wayne finally got the fish close enough for Jay Jay to reach over the side of the boat and grab him. We got the hook out of him got a quick measurement a couple of pictures and watched him swam away in good shape.( Way to go Wayne and Jay Jay great job.)
And that's all we did today on the Hooked Up. Just another day at the office (LOL)
Fishing is great right now so if you are thinking about coming down NOW IS THE TIME TO DO IT
Captain Taco (954) 764-4344 or toll free (877) SEA-4344
April 23
This morning all the charter boats in town set out to the Pier 66 hotel to pick up all of our anglers because they were all staying at that hotel having a convention. I'm not sure how many boats were in the convention trip but I'm sure there were at least 12.
At first we had no idea who was on any of the boats but as luck would have it we ended up with the president of the company on our boat.
We had Phil, Noll, Carol, Brain, Blake and Hulbert. Seeing we had the main guy on our boat I felt the right thing to do was to catch the first the biggest and the most on the Hooked Up.
Well like the old Meat Loaf songs says it 2 out of 3 ant's bad.
We set out our kites. With 3 live baits suspended from them and one big dead king fish also suspended from them. We also set out another king fish about 150 feet down and a last one down on the bottom 350 feet down. We did all this while all the other boats were just setting out their baits. It took no time at all when our deep rod bent over and line was peeling off the reel. WE WERE HOOKED UP
There was no question about who was going to jump in the chair first. Having said that Phil wasted no time getting in the chair and the fight was one.
After talking to Phil for a while on our way out it turned out that Phil and his wife travel all over the world big game hunting for trophies like this. It also turned out that Phil was one hell of an angler and he was really putting it to this fish and he got his Hammer head to the side of the boat in about 15 to 20 minutes. Once we got this fish to the side of the boat we explained to everyone that we were going to slide the fish threw the tuna door get a few quick pictures and a measurement of the fish to have a replica mount made of his great catch and then release him. So everyone got out their cameras and got ready. Everything went according to plan and the fish stayed pretty still for us so we were able to get all the hooks out of him and when we slid him out the door he took off like a rocket.( GREAT JOB)
We had boated and release an 83 inch hammer head shark before any of the other boats had caught a fish.
I figured we were on a roll so I decided to slide in to about 120 feet of water to see if we could now catch a sailfish. I had also called the other boats and let them know about our catch and how quickly we had gotten it and that we had chummed up the water pretty good so there might be a good chance that some other hammer heads might be showing up. Sure enough before you could blink your eyes I saw 4 other boats running to the spot where we had been fishing.
And within 20 minutes I heard that 2 of the boats that had moved into the spot we were at were now also Hooked Up. I've got to back up a bit and let everyone one know that when you have a mount made of your catch the taxidermy does NOT USE ANY OF THE PARTS OFF THE FISH so having said that our policy is we DO NOT KILL THESE GAME FISH JUST FOR THE HECK OF IT and this policy is catching on because more and more of the reputable Captains are following suit. Unfortunately not all the boat practicing this catch and release and well I guess that is up to them.
Having said all that one of the other boats that had moved in for bite in the hot spot that we had just chummed up decided to kill their fish and as it turned out it truly was a big breeder hammer head.
So as it turned out we did not catch the biggest fish nor did we catch the most but we did catch the first and did help set up all the other boat to also catch fish.
Phil and the rest of the gang on the boat thanks so much and we're looking forward to fishing you same guys again next year on the Hooked Up.
We dropped everyone off back at the pier 66 and headed back to our dock with no afternoon trip lined up for the afternoon. But I would like to think it was karma or maybe just luck but just as we backed in their was this one guy looking to go fishing and 2 others had heard about a guy looking to split the cost and BAM we were going back out fishing for the afternoon.
We had Peter from New Jersey and we also had Steve and Clare from Norfolk Virginia. Since we already had a well full of live baits we decided to do a little trolling to see if we could catch a few kingfish. Trolling was pretty good and in a matter of 30 minutes everyone had caught some fish.
So we thought how about going back to the same spot that had worked out so well for us in our morning trip. We went right back to the same BAT CHANNEL SAME BAT STATION and up went the kite and down went the shark baits.
Once we got all the baits set out there it did not take long before a fish was trying to eat one of our kite baits. Peter grabbed the rod and the fight was on. It turned out to be a nice 8 pound dolphin fish.
Not long after that we got a REAL BITE on our bottom bait. At first there was no fighting whatever this was on the other end in fact there was no getting the rod out of the rod holder till this SEA MONSTER settled down. After a few minutes the fish slowed a bit and J.J got the rod out of the holder and into the fighting chair where Steve was anxiously waiting for the rod and at the chance to do real BATTLE with a REAL SEA MONSTER. Once Steve got the rod in his hands and was explained that this fishing rod and reel cost a lot more than this fishing trip the fight was one. (LOL)
This story could go on and on for over an hour because that's about how long it took Steve to finally get his MONSTER hammer head to the boat. But after this back and forth tug a war Steve finally did get his fish next to the boat. Once the fish settled down next to the boat J.J and I sled a rope around his head and sled him in the boat for a measurement for a replica trophy and got a few pictures and sled him right back out the door.
First and for most on behalf of all Americans I would like to thank Steve and Clare for serving our country there are both getting out of the army this year and thanks for serving.
Guys we've got a few more weeks of these beautiful hammer head sharks moving thru South Florida so if you want the chance of a life time to fight what will probably be the biggest fishing battle most people ever get the chance to have now is the time. And with airline prices coming down and all the hotels down here competing for the best price timing could never be better for a long weekend. So give us a call and we can help you out with everything from Fishing, Dinning, Hotels and great party spots.
Stop Wishing and let's get Hooked Up in South Florida
Your Captain Taco (954)764-4344 or toll free (877) SEA-4344
April 24
Today was a windy day off the coast of
Ft Lauderdale and we started out our morning fishing trip with Terry and Cindy from Idaho Shad and Shelly also from Idaho, and Scott and Larry from Colorado We knew that there had been some big fish around and we also knew that the seas were a good 4 to 6 foot high so we figured the most comfortable way to hold the boat was to set out both our kites and just hold the boat facing the waves. Things started out a bit slow for us and well I guess that 4 out of the 6 people on board were willing to take a hit for the team Because they all starting chumming the waters so that we could attract some fish to the boat (LOL) Will I guess it worked because while we never seen it coming some kind of a sea monster ate one of our kite baits and line was screaming off the reel.
(WE WERE HOOKED UP)
Shad jumped in the chair and I think he had no idea what kind of a fight he was in for. After about 25 to 30 minutes we got the fish close enough to the boat to know we had a hammer head shark on. But once the fish got a look at the boat he wanted nothing to do with this SPORT FISHING GAME and now all the line that Shad had gained was gone and some. Shad was shot and I think at this point he was wanting to do a little chumming himself. So we got Terry in the chair and he also was surprised at the strength these fish have. It took Terry another good 30 minuets' to get this hammer head to the side of the boat. It turned out to be a good 6 footer.
After that everyone was kinda sick of deep sea fishing so we called it a day a bit early. I spoke to everyone after we got back to the dock and they seemed to all agree that even if they knew that they were going to get a little sea sick they would still have done it all over again.
These hammer head sharks truly are a sight to see and one hell of a battle to get them next to the boat.
Ok so now as for our afternoon trip we have our regular customer/ friend Donald from Queens New York, Katy from Hartford CT and Ray from Springfield MA.
As we were heading out I was talking to some of the other Captains on the radio and they were saying that the fishing had slowed down as if someone had turned off a light switch.
It did not matter to me my mind was made up I was going out to 130 feet of water where there has been a ship anchored up for the last couple of days set my kites out and hope for the best. We set out both kites with 3 live baits suspended from them and one dead king fish also suspended from one of the kite. It did not take more than 20 minutes till we seen a sailfish going after our right short kite bait. Captain Greg started feeding him the bait and just let him slowly swim away with the bait in his mouth. All of a sudden the fish came up jumping and spit the hook.
(RATS AND DOUBLE RATS)
Than just as we were starting to bring the kite in to set out a fresh bait here comes another sailfish on our left short kite bait. This one ate and we were Hooked Up. Katy jumped in the chair and the fish was dancing all over the surface of the waves. What a sight this fish was in the air more than it was in the water. At one point the fish was so far out that we thought he was going to get tangled in our left long kite bait because we could see his fin right next to the bait. Or so we thought this was not the same fish Katy was fighting this was another sailfish and this one was all over our left long bait and we now were Hooked Up with a double.

So much for slow fishing and something about someone turning off a light switch. We had been fishing for less than 45 minuets' and we now had not one but two sailfish on at the same time.
While Katy was fighting her fish Donald was fighting the other one. One fish went north and the other fish went south. This was good and bad at the same time. While we did not have to worry about the two getting tangle there was nothing I could do to back down or to help either angler out. There were on their own and they had to bring the fish to the boat not me bring the boat to the fish.
5 minutes later we got Katy's fish to the side of the boat.
Captain Greg reached over and grabbed the fish for a couple of quick pictures and we needed a measurement to have a replica mount made of the fish. One down and one to go. Now as I said earlier Donald has been fishing with me for I
guess over 6 years now so we were not going to be bring his fish on board he already has his sail fish mounted at home along with a host of other fish. But all the same we wanted to get his fish close enough so we could cut the leader close to his mouth so he would not have any string trailing behind him. But at this point we all had our cameras out after taking pictures of Katy's fish and it just so happen that right next to the boat at the last second his fish decided to start jumping all over the place. Well needless to say we just started clicking away with our cameras' and check out this shot of Donald's fish jumping next to the boat.

What a way to start out a fishing trip but now what do you do to top this??
After a lot of high fiving and hand shaking we got right back down to business. We got both our kite back out there with 3 live goggle eyes suspended from the kite and one dead king fish also suspended from the kite. This time Captain Greg decided to add one more bait to our spread he sent out one more dead king fish just hanging out of one of the out riggers. This time it took about 15 minuets' of waiting and that last bait that was just hanging out of the out rigger got hit and line started pelling off the reel. The rod was bent over pretty good and line was coming off the reel kinda fast but the fish was going away from all the other baits that were still out there so we figured we would just leave them out while Ray was fighting his fish.
(BIG MISTAKE)
I guess after about 4 or 5 minuets' of Ray fighting his fish the fish finally realized he was hooked and now he was pissed. Now I've been doing this fishing thing for well over 20 years and I've got to say that not to many times have I seen line peel off a reel like this. Now the fish was running off shore and I had no choice but to turn the boat around and back down hard off shore and chase this fish. Bare in mine we now had two kite in front of the boat and we could no longer keep an eye on the kite for we were busy trying to gain back some of the line that this whatever it was taking from us at will. About 20 minuets' into this fight Katy yelled out (look there's a big hammer head shark swimming right past the boat)
The problem was that this fish was hauling ass right toward our kite baits. Before anyone could do anything about it he got our dead king fish that was suspended from one of our kites. But wait it gets even better at the same time we had a dolphin fish that had taken one of the live baits out of the kite at the same time.
Ok we got a lot to do and fast. The line that the shark had taken out of the kite was now wrapped around one of the cleats on the bow and the dolphin was now behind the boat too close to the line connected to the big fish Ray was fighting.
Here's what we did Captain Greg reached over and grabbed the line with the dolphin on and just hand lined him to the boat at the same time I slid down the front of the fly bridge and took a wrap on the line with the hammer head on it and broke the line.
SLOW FISHING MY BUTT
Ok now back to Ray's fish this fish took well over an hour to finally get him to the side of the boat. At this point believe it or not the fish was pretty calmed down and except for the weight of the fish he really did not give us any trouble sliding him into the boat for out measurement (125 inches Greg Gray Hammer Head) . However as we slid him back out the door he shot off like a rocket and with one swipe of his tail he managed to get everyone on the boat soaked. I guess this was just his way of getting the last laugh.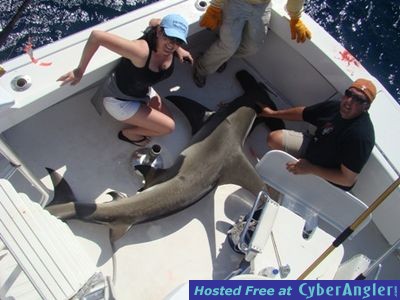 What an afternoon of fishing. Every Dog has his day and today was ours in fact all the other fishing boats were giving us a hard time on the radio and said we had to go home now (LOL)
Would you like to be in one of these fishing trips? Now is the time.
CALL (954) 764-4344 or toll free (877) SEA-4344
Target Species:

Sail fish, Sharks, Dolphin fish, ECT
More Fishing Reports: