Awesome Dolphin Fishing in Fort Lauderdale Continues
Capt. Paul Roydhouse
November 29, 2017
Fort Lauderdale - Saltwater Fishing Report


Great dolphin fishing this week, same as last. The dolphin are still right in on the reef and feeding voraciously. Lots of peanut sized ones and few bull dolphin sized fish are chewing just about anything you can throw out at them. Dolphin aren't particularly picky eaters, you just have to get your baits within sight of them. That's why sportfishing is so effective to target them, because by trolling you can cover a lot of territory. Trolling the reef, you can catch just about anything... dolphin, tuna, kingfish, wahoo, sailfish and more. This is a great time of year for all of those fish. Sailfish are the top gamefish this time of year and one of the most sought after fish in the any kind of deep sea fishing. December is one of the best 2 months of the year to catch sailfish, so I'm looking forward to a robust month coming up on sailfish.


The other big bite happening now is on the wreck fish. We like to stop at the wrecks sometime during our trips and drop a live bait or 2, to see if anybody is home. It doesn't always work out, but sometimes you can catch a monster fish without investing a huge amount of time into catching it. Dropping on a wreck takes only moments and the fish around the wrecks are not shy. If they are there and they are hungry, they pounce on a bait. The general rule for wreck fishing is that if you haven't gotten a bite within 3-5 minutes of hitting the bottom, you either don't have a bait left or there is nobody home. Big black groupers are biting strong right now as are amberjacks and sometimes even a very large gameshark. You never know what you might pull up when fishing over a shipwreck.


It's a great month to go fishing in Fort Lauderdale with a large variety of fish to be caught. If the ocean is rough, don't try to reschedule for a different day. Rough seas are generally when the best fishing action happens. Be grateful that you have rough seas to get some better action. And rough seas means there is a stiff wind, which means that we are able to do our kite fishing technique, one of the most effective techniques of fishing to catch sailfish. That's all for now, but I look forward to a great month of sailfish coming up and there's good action on everything else. I'll sea ya on the water.
Capt. Paul Roydhouse
www.FishHeadquarters.com
754-214-7863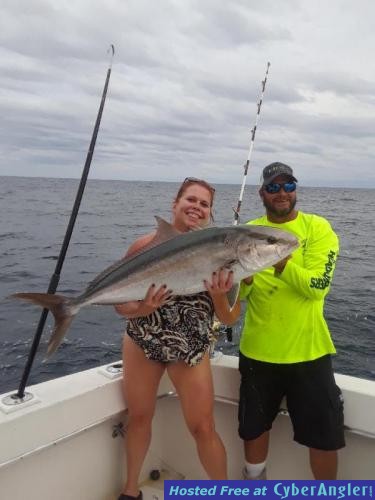 More Fishing Reports: