We Caught a White Marlin on our Sportfishing Charter Today
Capt. Paul Roydhouse
January 19, 2017
Fort Lauderdale - Saltwater Fishing Report


There are some awesome and unusual fish biting in Ft Lauderdale right now. January is known for big game and this January is not disappointing. Sailfish action is going strong and following the lull just after the holidays, the fishing is improving every day. Yesterday, we had an awesome fishing trip. We started off kite fishing and after only a ½ hour of fishing, we hooked up to a sailfish. After catching the sailfish, we tried a bit more kite fishing without any action for a while, so we switched up techniques and began trolling. Trolling is a good method to try when the bite slows down because you can cover a lot of territory and experiment with different depths and different areas, and find out where the fish action is best.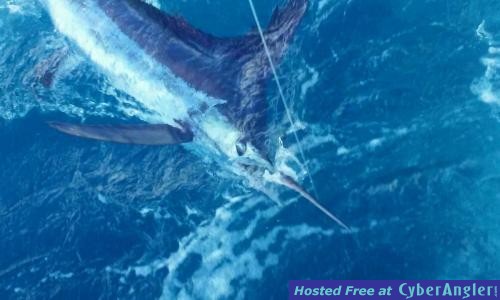 We started trolling the reef and hooked into a few small tunas, bonito and caught 1 small mahi-mahi. Our customers wanted to go after big game so we tried heading offshore to find action and adventure. Well we found it! As we headed offshore, there was a beautiful weedline formed in about 600ft of water. It was a perfect weedline and it looked fishy, like it was going to hold some fish. We started off catching a double header big mahi-mahi. Both fish jumped the baits at the same time. We saw them coming in from a distance, right off the weedline. The dolphin were pushing water with their blunt head, so we could see the wake they were pushing right on the top of the water to get to our baits. First our left long rigger bait snapped out of the clip and a second later, our right long rigger bait snapped out hard. Both fish hooked up and on the line! After a 20 minute fight, we landed both fish and had them in the box.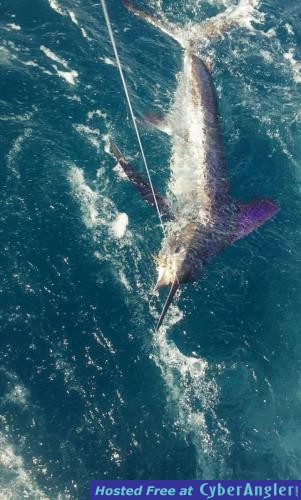 We reset the lures and began trolling along the weedline again. It was a while before the next bite but it was a bite worth waiting for. It started off out of the blue, after a long lull with no action. We were alerted to the bite by a knockdown on our highline rigger bait. It popped out lightly as if it were just a random piece of seaweed on the line that pulled it out. One thing we always do is treat every knockdown as if it is a bite, so we began jigging and bringing the long bait back up towards the boat into the main spread. The fish sometimes follow the bait up and then hit again or hit one of the other lines. Well, that's what happened this time. As we reeled the longest bait into our main lure spread, the fish went from left long rigger to right long, back over to left long and the on to left short. He ultimately got hooked on hitting the right short rigger. Immediately the fish jumped and so did we! It was a white marlin. A super rare fish that we don't catch very often.
When the fish jumped, we could see the shorter dorsal fin that is the identifying factor for marlin. White marlin have a slightly curved dorsal fin while blue marlin have a pointed dorsal fin. Marlin are extremely rare to catch in Ft Lauderdale, but out of the two, blue marlin are more common than white marlin. I've personally only caught a handful of white marlin my whole life of fishing offshore Ft Lauderdale. I've caught many more fishing the tournaments in the Bahamas, where they tend to migrate through in higher numbers. This white marlin put up an awesome show and we got some good video of it. He jumped more times than we could count and put up a great fight. We took some good pics of the marlin and released him. It was an awesome experience.
Marlin are a fish that we don't catch everyday and this was the topping on the cake to an already awesome trip. There are some huge fish biting in south Florida this month, you just need to go out there and look for them. And then get lucky of course! A little luck always helps. Good luck to everyone fishing with over the next week. I'll sea ya on the water!
Capt. Paul Roydhouse
www.FishHeadquarters.com
754-214-7863
Target Species:

Sailfish, Mahi-Mahi, White Marlin
More Fishing Reports: