Dec 19 threw 31 aboard the Hooked Up
Capt. Taco Perez
January 6, 2010
Fort Lauderdale - Saltwater Fishing Report

Dec 19
Will I've got to say that it has been a tough week aboard the Hooked Up. Between bad weather and not a lot of business around just before Christmas we were a bit extra excited about going fishing today.
I got a call a couple of days ago from a lady named Kim and she reserved the boat for her dad and her for an early Christmas present. She had mentioned to me that her dad Harold had fished with us before but I never put 2 and 2 together. As it turned out this was the same Harold from Mass that had fished with us last week.
So off we went a bit earlier than the other boats trying to take advantage of the waters that had not been fished much this past week. We went ahead and ran down to the south about 4 miles and set out both kites with live baits suspended from them.
We had our baits out no more than 20 min when I seen something dark around our left long kite bait but before I could say anything Captain Greg already had the rod in his hand and was feeding the bait to him. As we came tight on the line the rod just started to bend over and then went slack. (RATS) Once Greg reeled in the bait to switch it to a fresh and lively one he noticed the leader was all shafted up and the hook had turned around and buried the point back into the bait.
We had missed a sail fish but we had just gotten started so things were looking good. Greg got the baits set right back out there and the wait began. We waited for a good 45 min till we seen a dolphin fish eating one of our baits. Greg handed the rod to Kim and the fight was on. BUT all of a sudden the line went slack and the fish got away. (RATS AND DOUBLE RATS)
Then I noticed more dolphin swimming around our baits and before we knew it all three rods still out there had a dolphin on it. We managed to get all three in the boat. Thank god the skunk was out of the boat. Soon after that we had a double header bonito bite and both father and daughter were fighting fish at the same time again.
We got the baits out there again and Harold got a nice bite on one of the kite baits but no one seen what it was so for a good 5 min we were all wondering what we had on. It turned out to be a nice silky shark.
Kim and Harold thanks again we really enjoyed having you guys fishing with us and we hope to see you again soon.
Captain Taco (954) 764-4344 or toll free (877) SEA-4344
Dec 20
This morning we started out with a shared charter starting with Pascal from Canada and Matt and Paul from Portland Ma.
We started out trolling the reef hopping that the king fish had finally turned back on but sorry to say that the kings just haven't seemed to be around. We did manage to catch one big bomber bonito but trolling just was not producing any fish so we decided to try our luck by fishing with live baits. It took a while but at last we got a nice bite and Pascal wasted no time jumping in the chair. All of a sudden out came this monster sail fish dancing all over the surface putting on this great show for us. It took Pascal a good 20 min to finally get his catch to the side of the boat. He was hooked pretty good so instead of trying to get the hook out of his mouth where the fish might have hurt himself we just cut the line right next to the hook and watched him swim away in great shape.

As we pulled back to the dock we had our afternoon trip waiting for us and eager to try their luck at some deep sea fishing off the coast of Ft Lauderdale.
We had the whole basket ball team from Milken University in Illinois that had chartered 4 of the boats off the dock for a little friendly competition.
We had on board the Hooked Up Amy, Morgan, Amanda, Brittany, Jason and Matt. And we ended up catching 2 nice black fin tunas and one nice dolphin fish.
Thanks again to all of our anglers today and hope to see you guys again soon.
Captain Taco (954) 764-4344 or toll free (877) SEA-4344
Dec 22
Today we had Max, Matt and Ben all from Iowa out for a morning of deep sea fishing.
We started out trolling the reef with our two planners down deep and three baits skipping across the surface. Trolling was a bit slow today but we did manage to catch one king fish and a nice dolphin fish.
Since trolling was not producing many fish we decided to try our luck at some deep wreck fishing with live bait. As it turned out we made the right choice. We dropped a live bait down about 310 feet and once we got to the bottom (BAM) the rod bent over and we were Hooked Up. After a good 15 min of trying to get this sea monster off the bottom we ended up catching a monster amber jack.
As we headed back toward our port we stopped for just a few min and dragged a live bait along this nice drop off we've got just outside of our inlet. Once again we got lucky and hooked into this nice barracuda.
Guys thanks again for a fun morning of fishing and try not to freeze your butts off in Iowa (LOL)
Captain Taco (954) 764-4344
Dec 24
As a fisherman and part time writer there's nothing I love more than to catch nice fish for our customers and then writing a great stories about the catch.
HOWEVER this is fishing and some days are a bit slower than others and I feel it is only right to report the good days along with some of the slow ones and that is just what we had today.
We started out with this guy I chose to call #1 because I just could not pronounce his name but he was Levent Bilginogullari from Argentina.
By the way he spelled his name this is not a classic case of Taco not knowing how to spell it correctly. (LOL)
Anyway back to the fishing. We took #1 trolling down the reef and caught a king fish and a bonito. We tried a couple of drops on some deep wrecks but we had no current and we just could not get a bite on the wrecks.
I know fishing was slow today but it never seemed to bother #1 he had a ball all the same and we are going to get the chance to fish with him again in Jan so hopefully we can make it a better catching day.
Thanks again #1
Ok now for our afternoon trip we had Russ and Vicky from Arizona and David, Mickey, and Jonathan from Homewood Ill.
Once again we trolled the reef hopping to find some king fish or bonitos or just about anything that had fins. But I'm sorry to say that trolling was not paying off for us nor was deep drops we just had a tough day on the rip today.
But the funny part about this hole day was that the only people that seemed disappointed was J.J. and me the rest of the people all seemed to have a great time out on the water. All the same sorry guys for the slow fishing today but remember I owe you one and I hope to get the chance to fish you guys again.
Captain Taco (954) 764-4344
Dec 26
Today we had Elena from Greensboro North Carolina brought her two sons Alex and Nicholas and her parents Hans and Elena out for a morning of deep sea fishing aboard the Hooked Up.
Once again we had little to no current and once again fishing was on the slow side. But today we were determined to stick it out and somehow make something happen.
We set out both of our kites with live baits suspended from them and one shark bait just drifting from one of our out riggers.
It took a bit of patience but at last we got a bite on one of our kite baits and Alex wasted no time jumping in the chair. We had no idea what we had on at first but soon enough Alex reeled this nice black tip shark to the side of the boat. Ok not the biggest fish in the world but at least now we had the skunk out of the box. We got our baits set right back out there and began our wait once again.
After quite some time I yelled down at Captain Greg that I thought I had seen some kind of a swirl next to one of our kite baits. Greg picked up the rod and at first we were not sure if there was something on the other end but then we noticed that our bait was swimming right toward another one of our baits. Just as it got to the other bait we got our first look at this monster sailfish that had already eaten one of our baits and was now going after another. Greg locked up the reel and we went ahead with the boat and BAM we were Hooked Up. Nicholas jumped in the chair and the fight was on. It was a good 20 min till Nicholas finally got his fish next to the boat. We got a couple of pictures of him next to the boat and in fact I had gotten one shot of this sail fish doing cartwheels next to the boat.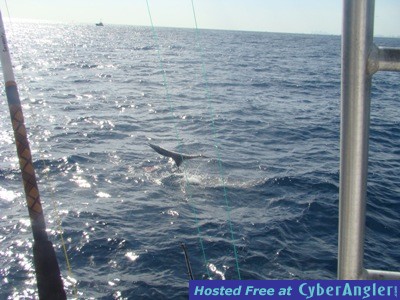 We may not have caught a lot today but we sure as heck caught a couple of nice ones. Thanks again guys and try to keep warm up there in North Carolina.
Captain Taco (954) 764-4344 or toll free (877) SEA-4344
Dec 28
After a good week of no current we finally had some north current today and I've got to say what a difference a bit of current can make.
Today we had Josse, Daniel, Dennis and Rolande all from Montreal Canada out for a morning of deep sea fishing and today trolling the reef was red hat. The king fish started biting for us like mad dogs and before we knew it we had our limit of kings.
Thanks again guys for a fun morning of fishing.
Captain Taco (954) 764-4344 or toll free (877) Sea-4344
Dec 29
Today we got a last min call from Frankie down on vacation from Kansas with his mom Ivy and his girlfriend Roxanne.
It just so happened we were wide open this afternoon and things could not have worked out any better for everyone.
We got out to about 150 feet of water and set out both of our kites with live baits suspended from them and before we knew it BAM we got a monster hit on our left long kite bait.
Frankie wasted no time getting in the chair and the fight was on. It took Frankie a good 25 min till he finally got this monster sail fish to the side of the boat. We got a quick measurement to have a replace mount made of his catch and watched him swim away in great shape to fight again another day.
Well it's almost the end of the year and the cold fronts are on their way down and with these cold fronts we get the sail fish moving threw so give us a call and let's get you HOOKED UP
Captain Taco (954) 764-4344 or toll free (877) SEA-4344
Dec 31
This morning we started out fishing with Adam, Linsey, Mark (AKA the coach) Thomas and Donnie. They had all come down from Wilmington Ohio to watch their foot ball team the Hawk eyes kick some butt in the orange bowl game.
I've got to admit that fishing has been on the slow side due to what they call a blue moon but I just call it a week of a full moon and with having a full moon I believe that the fish feed all night and with little to no current the fish just haven't been biting as well as they usually do when we have a cold front down here in sunny south Florida.
So having said all that we just wanted to make sure that everyone got to catch fish and also catch a good buzz.
We decided to just stick to trolling the reef first in reel shallow into about 70 feet of water and then back out to about 350 feet of water and just zig zaged our way down the reef.
It turned out to be the right move while we may not have filled the fish boxes everyone caught fish and we ended up with four nice king fish and two bummer bonitos.
Guys thanks again for a fun morning of fishing and good luck with your foot ball game.
As we made our way back to the dock we had Sam, Marcus, Lucas, Dave and Howard from Bristol Ct and from Lowell Ma waiting for us and eager to try their luck at some deep sea fishing.
Once again I've got to say that fishing truly was slow today and I know that J.J. had been busting his butt all day just trying to make something happen for all of our anglers today. So in lou of that I thought I would give J.J. a break and I ended up working the cock pit this afternoon and J.J. got to drive the boat and see if maybe he could find the fish.
To make a long story short we while we did end up catching a couple of fish we sure as heck did not fill the fish box. But I've got to say that it seemed to bother J.J. and I more than our customers today they all had a ball and are looking forward to their next fishing trip.
I guess a lot of people are just glad to be out on the ocean and away from their everyday work routine. To all of our anglers today Thanks so much and we are very much looking forward to fishing all of you again soon.
Captain Taco (954) 764-4344 or toll free (877) SEA-4344
Fort Lauderdale Fishing Forecast:

It,s a new year and the cold fronts are here. we are looking foward to one of the best sail fish seasons we,ve had in years. Tight lines and good fishing.
captain Taco
Target Species:

Sail fish, Sharks, Dolphin fish King fish ECT
More Fishing Reports: