Dolphin, Kingfish and Tuna Action on our Deep Sea Charters
Capt. Paul Roydhouse
August 9, 2018
Fort Lauderdale - Saltwater Fishing Report


Good action this week on our various fishing charters. Lots of action is biting out there and most of them are quality fish. Trolling is working extremely well. Lots of kingfish and bonitos are biting, with a few blackfin tunas and an oddball wahoo biting. Trolling is really effective this time of year because it allows us to put baits in all the water columns (down deep, just below the surface and splashing right on top). It also allows us to cover different territories and zones to find the fish. Trolling can catch just about anything this time of year. Even though it isn't the best time of year for them, sailfish are biting a bit out there too. It's always exhilarating to get a bite and suddenly see a sailfish jumping behind the boat. Your adrenaline just shoots right up and it gets your heart really pumping.


Drift boats are catching some snappers and groupers on the bottom as well as a few kings and bonitos. Every now and then, a school of mahi-mahi may swim up to the boat and start biting. With all that bait in the water, dolphin fish naturally want to swim up to the boat to see what's going on. When they do, dolphin are one of the easiest fish to catch in all the sea. They eat just about anything (and everything) and as long as you always keep at least 1 fish in the water at all times, the entire school will stay right with you so you can catch them all! Dolphin fishing on our drift boat is a hoot, so many lines hooked up with fish and the drift boat actually has a lot of room to move around in. If only they bit more consistently for us. But their rarity makes them all the more sweet to catch.


Summer is our best time of year for catching numbers of fish here in Fort Lauderdale. The general action is better in the summer months than any other time of year. We have a little over a month of great fishing action left this year, until the autumn and winter fish start moving into our waters. Until then, come on our fishing to take advantage of some fun, action-packed fishing trips. Sea ya on the water.
Capt. Andy Roydhouse
www.FishHeadquarters.com
754-214-7863 cell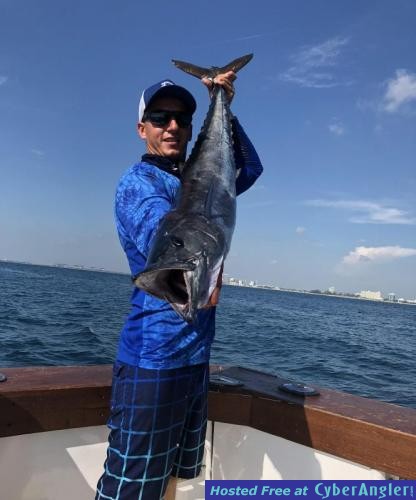 More Fishing Reports: