Fishing in Fort Lauderdale is great! Sailfish, Mahi and Wahoo!
Capt. Kent "Kunta" Smith
October 30, 2013
Fort Lauderdale - Saltwater Fishing Report

Yesterday we had T.J. a local entertaining his two brothers and father inlaw and father for an afternoon of fishing on the Reel Appeal with Captian Kunta and Mate the Great Jeff experiencing 10-15 mph winds out of the northeast along with 2 knots of north current. It was a bit bumpy but the guys didn't mind experiencing first hand what bumpy conditions can produce! They caught mahi's and a nice wahoo. To top it all off T.J. caught his first sailfish after trying for the past 9 years. Congrats from Reel Appeal! For resrvations or fishing information call 954-638-6353.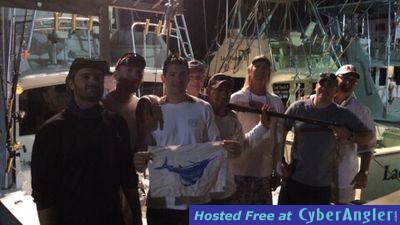 Fort Lauderdale Fishing Forecast:

Sailfish starting to show. Mahi and wahoo are around. Sharks good in the early evening.
Target Species:

sailfish, wahoo, kingfish, mahi
More Fishing Reports: