Florida fishing
Capt. David Ide
September 1, 2017
Fort Lauderdale - Saltwater Fishing Report

The Lady Pamela II sporfishing's driftboat, Lois Ann, is a great bargain for families and others that just want to get out and fish in the waters offshore the Fort Lauderdale/Hollywood Area. The opportunities to catch snappers, groupers, triggerfish, kingfish, you name it, are right there at the end of a fishing rod. One bottomfish we catch that you never really hear about is the porgy. There are five species of porgy off south Florida, including the sheepshead which are caught in inland waters around oyster reefs and pilings, and the pinfish which are often used for bait. After the sheepshead, the jolthead porgy (Calamus bajonado) is the largest of the porgies caught on south Florida reefs, and is the Lady Pamela II's fish-of-the-week. Joltheads are so-named because of the unique appearance of their somewhat blunt head, where the eye sits up high on the forehead. These fish are excellent eating, and can grow to over 14 lbs. Porgies are often confused with grunts and snappers, and while they are all members of the perches, they are in different taxonomic families. Regardless, they are just as tasty as a snapper in my book, and I gladly toss porgies into my fish box!

Porgies are aggressive biters when we get into them, taking just about anything we can throw on a hook. We put baits like squid, cut mullet, or ballyhoo chunks on double-hook rigs and drop down for instant action. I have found that when the porgies are biting, so are the snappers, and grunts, so you never know what you are going to bring up on the line.
Offshore, we are catching a few mahi-mahi and wahoo if there is some chop on the water. Trolling on the reef has been a mixed bag with some bonitos and barracudas. There are some big amberjacks, in the 50-60 lb. range, hanging around the offshore wrecks, though they have been tricky to catch with strong north-flowing currents.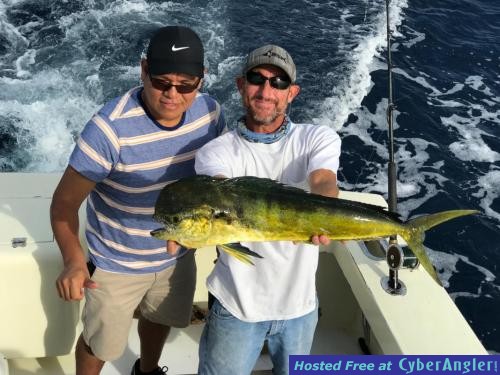 Tight Lines
Capt. David Ide
Lady Pamela 2 Sport Fishing
954-761-8045
www.ladypamela2@bellsouth.net
More Fishing Reports: