Fort Lauderdale Deep Sea Fishing/Wahoo and more
Capt. Rick Brady
September 27, 2011
Fort Lauderdale - Saltwater Fishing Report

Fishing the deep sea off Fort Lauderdale today was absolutely magnificent. An actual coolness in the air in the morning lingered. I know it may not sound like much, but after the sweltering heat we have here with high humidity, get even a small break in either and it's noticed. Clear skies and calm seas also aided this picture perfect day as we welcomed Dave and his group for their business/ fishing day at sea.
With Andrew back on board for the day, we began catching small Bonito for live bait. They have been biting well and didn't disappoint us. Once done with that we began trolling to the south for some wreck fishing, and while the day was bright, clear and even a tad cool, the sea was not being kind to the crew of the Marlin My Darlin. Sea weed was everywhere in huge clumps. Some areas were so thick with it, you couldn't keep a bait clear for 10 seconds. And it was quite some time, about 30 minutes or so, before our first bite came along. But if you're going to have a slow time, I like it early and a strong finish to end the day. And that's how it went.
We began with a few Kingfish and Bonitos as we worked our way south. Then came the birds and a huge school of Bonitos was working off shore. Each time we found them, we were covered with fish on every rod. This is one of those times that pandemonium is great! Andrew began looking up at me asking how many of these we wanted to keep as the box became full to the brim and it wasn't 12 noon yet.
Our wreck fishing was a bust. With little current, they just weren't biting so we began dragging the livies around. A kingfish or two bit and then came the Sailfish. We'd had a shot earlier trolling but didn't connect.
The fish was a hot one, jumping away from us with tremendous speed. Our angler could do little but watch as his fish stripped line from the reel. One of the guys caught the fish in midair with his phone camera, a feat in itself.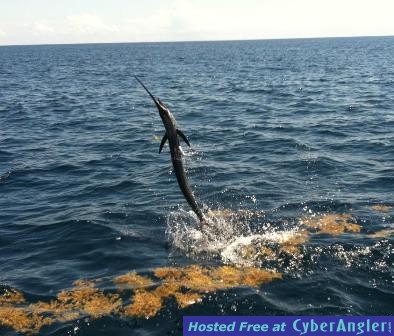 Within 25 minutes or so, he had retrieved all the line and the fish was released boatside. High fives all around and back to work.
A few more hits and this time a nice bite on the high line. No jumping from this one but a strong fish none the less. Once we had him to the boat, this 23 lb Wahoo was quickly added to our already full fishbox. 
We still had time and were now out of live bait so a trip to the buoy for more was in order. It works well sometimes doing it this way as the guys were already trained in this.  We caught another 6 quickly and with 30 minutes left, we began again. Another King was boated, then the deep line went off and it was a miss. Then things got really interesting and in truth, I can't say how many fish there were. Was it just one doing this damage? Two? Maybe?
The water erupted next to each bait we had out almost simultaneously. Almost. One rod stayed connected and Andrew glanced up with that look he gets of OMG!!! This battle took over 20 minutes as well as we coached our angler to be gentle, almost sure of what it was. Another Wahoo, twice as big as the first had hit and with the mall hooks we use for this, it was tense for the crew. We've seen what can happen here.
While fighting this fish, another fish, a Barracuda, nice sized in his own accord was hooked and left way out away from the boat not to foul the other line. When all was said and done, the 46 lb Wahoo was resting comfy in our box and the 20 lb Cuda was released boatside.
See what I mean about ending strong? All within 2 miles of shore off Fort Lauderdale fishing in the deep sea…
Capt. Steve Souther
Fort Lauderdale Off Shore Fishing
www.all-inclusivesportfishing.com
(954) 761-8202

Target Species:

Sailfish, Sharks, Tuna, Wahoo, Dolphin, Cobia, Marlin, Swordfish, Snapper, Grouper and more...
More Fishing Reports: