Giant Black Groupers Biting Everywhere in Ft Lauderdale
Capt. Paul Roydhouse
December 22, 2017
Fort Lauderdale - Saltwater Fishing Report


First off, Holiday Gift Certificates are available. Give the gift of fishing this holiday season with a Gift Certificate from Fishing Headquarters. We fish Ft Lauderdale every day! And now our fishing report.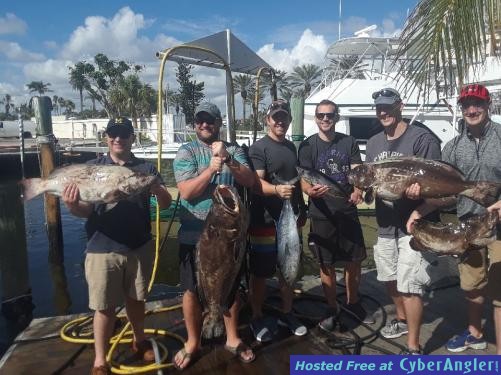 Great catches of giant black groupers this week on our Fort Lauderdale fishing charters. The grouper bite has been on fire and far and away this is the best year of grouper fishing that I can recall in recent years. We're catching them on the shallow wrecks in 90-150ft of water, using ballyhoo and squid as baits. We're catching a few on live baits too, but dead baits seem to be getting the best bite for us. Black groupers can be caught anywhere from 20 feet of water, all the way out to 300 ft of water. But the best bite has definitely been inside of 200ft on or around any of our local shipwrecks. They are in there getting ready for mating season this January on the full moon, so they are eating everything they come into contact with. It's been a great month for them and you can still catch and keep them for about another week and a half. On January 1, all shallow water groupers go out of season for a period of 4 months. You won't be able to catch them until May 1 of next year. So catch them quick!


Amberjacks, snapper and cobia are also bottom fish that are biting on our drift fishing and sport fishing trips. We catch them using the same baits and same techniques that we use to catch grouper. Amberjacks tend to bite in deeper waters, while cobia and snappers usually bite best in shallower spots. Late December and early January are great weeks to catch snappers, in fact on our drift fishing trips, they make the majority of the catch. Cobia are sometimes rare to catch and at other times, they are jumping in the boat. They run in spurts and it's always good to be prepared if you see a cobia come up, to have a pitch bait ready to throw to any follower fish. Sometimes cobia will follow a hooked cobia right up to the boat. He who is ready to catch it, will.


Good luck to everyone fishing over the holiday fishing season. It's going to get a little tough next week with all the boats on the water fishing the spots. But there will be plenty of fish to be caught. Stick with bottom fishing on most trips for the best action. Fish with us because we know where they live! Sea you on the water,
Capt. Paul Roydhouse
www.FishHeadquarters.com
754-214-7863
More Fishing Reports: