Great Variety of Fish Biting on our Ft Lauderdale Fishing Trips
Capt. Paul Roydhouse
March 16, 2019
Fort Lauderdale - Saltwater Fishing Report


It's a mixed bag of fish biting on our Fort Lauderdale fishing trips this week. Lots of snappers are biting on our drift fishing trips and our sportfishing charters. Mutton snappers especially are biting well, as are yellowtails and mangrove snappers. As for bottom fish, groupers are biting exceptionally well too, but they are out of season right now, so they have to thrown back. Still fun to catch though. Other fish biting on our drift fishing trips include kingfish, porgies, triggers, jacks and other mackerels. It's been good action on our day and our night trips this week with most anglers catching at least a few fish and the lucky ones catching a lot.


An awesome sailfish bite is beginning with some big numbers of sailfish being caught this week. This is kind of late in the sailfish season for Fort Lauderdale, but last year was the same. The sailfish bite in March was better than it was in January and February. It seems like the trend is continuing this year with already better numbers of sailfish this month than the past 2. Good to see some serious sailfish pouring through. Any day with some wind is a good day to go out and pop the kites to try to catch sailfish. Days with no wind? Don't worry. You still have a great chance at seeing them on the troll.


Mahi-mahi, tuna, wahoo, kingfish and more are biting on the troll as well. Trolling the reef is the best all-around method to get fish in the box. You can catch just about anything on the reef and this time of year, you do. The Gulfstream current runs parallel, almost right on top of the reef. This 'conveyor belt' brings all the migrating fish right through our main fishing grounds. This week, we're catching lots and lots of the blackfin tunas. Some smoker sized kings are hitting the dock too. Wahoo are always a welcome catch and they bite when you least expect it. Mahi-mahi are finally making their run in Fort Lauderdale. Any day with a stiff East wind is a good wind for catching mahi-mahi. We've had several good days this week with good catches of schoolies and a couple giants on the line.


We're entering our best season of the year for fishing and just about everything is biting. This is the season I wait for all year long because we catch so many fish. It's like the fishing used to be in the old days when the bite was really good. This epic fishing season only lasts a few months and then it will be gone. So get out there while you can while the bite is hot. I'll sea ya on the water!
Capt. Paul Roydhouse
www.FishHeadquarters.com
754-214-7863 cell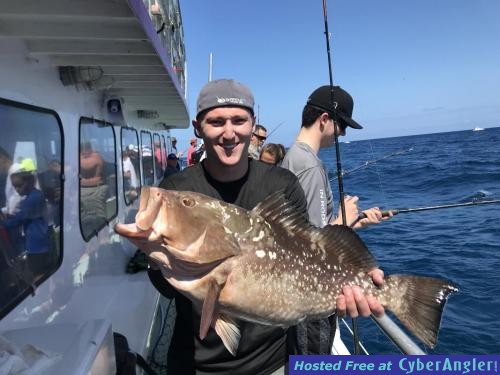 More Fishing Reports: