Grouper Season Opens Up After 4 Month Closure- Groupers Snapping
Capt. Paul Roydhouse
May 2, 2017
Fort Lauderdale - Saltwater Fishing Report


Grouper season just opened up and they are snapping. On our drift boat, the red and strawberry groupers are biting great. And on our sportfishing charterboat, the larger groupers such as blacks, warsaw and snowy groupers are biting. It's been hard for us to release all the groupers we've been catching over the past few months. It almost makes me cry releasing a 25 pound black grouper. We don't have to anymore. Groupers are back on the table for us now, we can keep them again.


Groupers are interesting fish. They are one of the only fish that almost always takes the bait and swims directly into their hole or around a rock. A big art to catching groupers is to pull them out of the rocks without breaking them off. There are several techniques including putting it into freespool and letting them swim out naturally. Or tightening up and twinging the line (like you're plucking your guitar). Or slowly pulling them out inch by inch, trying not to break them off. Heck, I've even swam down and grabbed them by hand a few times. With groupers, it's an art to getting them out of the rocks and sometimes you just have to do whatever it takes.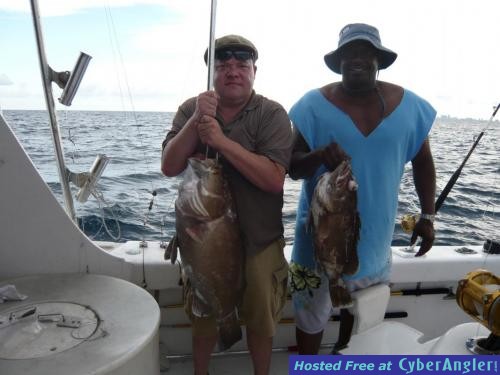 Groupers are all over the wrecks and reefs this month. They haven't been harassed by us fishermen for a very long time, so now is a great time to get out there and catch them. Let's go fishing!
Capt. Paul Roydhouse
www.FishHeadquarters.com
754-214-7863
More Fishing Reports: