july 10 threw 31 fishing Bimini and Ft Lauderdale aboard Hooked
Capt. Taco Perez
August 3, 2010
Fort Lauderdale - Saltwater Fishing Report

July 10
Today we started out with Brendan from South Florida, Bill from Phoenix Arizona, And Randy and Dave from Alabama.
We started out trolling the reef with lines running deep on planner boards and three skipping across the surface.
It took Captain Greg over 30 min just to get all the baits in the water. The bonitos were biting like mad dogs and we were catching them one after another.
We ended up catching 3 kings one being a 15 pounder caught by Dave and about 1,000,000,000 bonitos.
Captain Taco (954) 764-4344
July 11
This morning we started out fishing with Steve, Chris, Greg, Mike and Peter all from South Florida.
Once again we went right to trolling on the reef with our 2 lines running deep on planner boards and 3 baits skipping across the surface and one again it paid off for us. Catching kings and bonitos along the way.
This same afternoon we had Mark from Michigan and his friend Tyler from Jupiter Florida.
And once again the reef paid off for us catching kings and bonitos.
Captain Taco (954) 764-4344
July 14 and 15
Today we had our old customers/friends Kelly and Rock on Dawn from St Louis and this time they brought along their nieces and nephew Jessica, Heather and Kristin for a couple of days deep sea fishing aboard the hooked Up.
We started out trolling the reef catching king fish and bonitos.
Than we ventured off shore looking for some better eating fish. After quite some time of trolling without a bite we finally found a big tree branch floating and this was just what we were hoping for. On our first pass we boated a nice dolphin fish but never did see any more. So we set out a planner board with a 3 and a half drone spoon at the end of the leader Heather caught a nice Wahoo.
Nice going guys I lost count of how many kingfish and bonitos we caught but I can say that everyone caught a lot of fish not to mention a bunch of laughs and a great time.
Kelly and Dawn thanks again for a great time and we are looking forward to fishing with you guys again next year.
Captain Taco (954) 764-4344 or toll free (877) SEA-4344
July 16 thru the 28th
Ok so today was the big day for the Hooked Up and the Local Knowledge both of our boats were invited to fish in Bimini in the Bahamas to entertain customers/friends of East Penn Manufacturing Co Inc.
Our trip would consist of three different segments and each would have prizes for first second and third place.
I've got to take a second to say first of all thanks so much to Brain and Ken Sharky for inviting us. They had told us not to bring anything with us as far as bait and food was concerned but we have heard this in the past so needless to say we loaded the boats up with both food and extra bait. (BIG MISTAKE)
Talk about first class run operation there was more food and bait and ice and fuel than I've ever seen in any other fishing trip before. Now I understand why all the boats and customers/friends look forward to this every year. And as far as the other boats we had a total of 8 and a nicer bunch of Captains and Mates I've never seen. Incidentally if you do find yourself in Miami looking for a fishing boat let me point out a few you should consider fishing on. The Patience with Captain Ken and his mate Mike or the Wild Life with Captain Pete both out of Key Biscayne in South Miami or a little north of Biscayne by South Beach world famous Perr 5 you got the Thomas Flyer run by the two brothers Jimbo and Rick or the Sea Hawk run by a father and son team every one of these guys and boats were first class.
This was the first year that we were invited to this event and every one of the Captains and Mates made us feel like part of the family.
As far as the guys running the show; Ken, Brain, Freddy and Josh words cannot explain what a great bunch of guys. As a matter a fact I had some trouble with one of our AC units and they just went ahead and had a plane fly one in for us. I think that pretty much sums up what kind of guys we were dealing with.
And as far as the customers I mean FRIENDS they were just so glad to be there and away from the everyday rat race and into this beautiful blue water and island atmosphere that at times I would forget that we were supposed to be working and not having as good of a time as our guests. I think I gained 20 pounds because every time one of the guests would make a sandwich or get a soda or bag of chips they would throw one up on the bridge for me.
Our first day fishing started out with Jesus, Helbdio, Edvbrdo, Jorge and Javier all from Mexico.
We started out our day running right off shore looking for a Blue Marlin or some Dolphin Fish but within the first 10 min of fishing I could not believe what I saw a big Mako Shark jumping about 10 feet out of the water. Of course as always no one seen this but me. But this all happen within 25 feet from the bow of the boat. So I headed right for this big hole in the water and there he was about a 300 pound Mako shark for everyone to see. While we never got him to bite we all got a good look at him and what a great way to start out.
After trolling off shore without a bite for a few hours we decided to head in to the reefs and troll with our planner boards out and running about 45 feet down. Now the action started we were catching barracuda after barracuda and for every 5 barracudas we caught we would catch a big cero mackerel. Soon enough we had had enough of trolling so we threw the anchor and started chumming the waters. At first all we caught were trigger fish but soon enough up came the yellow tail snappers and everyone was having a ball catching fish one after another.
Ok now we had caught plenty of fish but none of them were big enough to weigh in for a trophy.
The following day we pretty much repeated what we had done the day before only this time at the end of the day we decided to try dropping one of the barracuda filets down on the ledge. Let me take a moment to explain what the edge is. This is the Bimini wall where the water goes from about 150 feet to the bottom to about 500 feet and this all happens within about 50 feet so holding the bottom was no easy task.
But once I figured out the wind and the current and how the boat was drifting we finally held bottom and all of a sudden BAM the rod bent over and we were HOOKED UP.
I can't recall who got in the chair first but it was a big back and forth tug a war fort a good 15 min till finally up popped this monster amberjack.

Ok so now we had a fish to weigh in so we figured what the heck let's try this again. Once again the second we got to the bottom BAM HOOKED UP again.
We repeated this 7 or 8 times only keeping the bigger fish. We did end up killing four big amberjack and weighted in 2 to win first and second place on the first leg of the trip.

To all of our guests from Mexico on behalf of the Hooked Up and East Penn thanks so very much for a great fun filled days of fishing.
On the second segment of the trip we had all the guys from Canada. We had Jim, Mike, John, Shawn, Louie and of course Jim from Denver Colorado.
We pretty much did what we had done on the first part of our fishing trip with some off shore trolling and sorry to say not getting any bites out there but once again the reef trolling turned out to be the ticket for none stop action.
Once again we anchored up for some snapper fishing only this time we were having a problem with the sharks eating our snappers before we could get them to the boat. Sharks well what the heck if they were here and we were here let's try some shark fishing on light tackle and man did that turn out to be a BIG HIT. They loved fight these 5 to 6 foot reef sharks on light tackle.

While we did not win any trophies our guests had a ball and Captain Mike on our other boat the Local knowledge we taking care of the trophy's for our fleet.
Mike was dropping on the ledge trying to get a big amber jack for a trophy for the Local Knowledge when they were in for a BIG surprise when up popped this 58 pound black grouper.
No one in the fleet knew what they had caught on the Local knowledge but after everyone weighed in their fish Mike's mate Richard pulled out this monster. (You dirty rat mike) (LOL)
Ok going into the last day of the second part of the trip Mike on the Local knowledge was holding on to first place. BUT 30 min into fishing Jimbo on the Thomas Flyer called in a blue marlin hook up.
30 min later Mike's first place was doomed with Thomas Flyer catching and releasing a 300 to 350 pound blue marlin. (Way to go guys) But Mike was able to hold on to second and third place with a 58 pound grouper and a 38 pound amber Jack.
The beginning of our 3rd leg was put on hold by tropical depression Bonnie. Lucky for us the storm was moving fast and before we knew it was past us and we were able to finish fishing the 3rd leg.
I'm sorry to say that I lost my paper work with the names of the people but all the same I know that we had more guys from Mexico and Jim from Denver was out with us again. This time since the winds had calmed down we were able to fish north of Bimini for the first time and J.J. suggested we anchor up and fish the bottom.
So we threw out the anchor and started chumming the waters. At first all we were catching were trigger fish so we named this spot Captain J.J., s famous trigger hole but soon enough the yellow tails started biting so we changed the name to Captain J.J., s famous yellow tail hole. Than the groupers started biting and yep you guessed it we changed the name again. All in all it turned out to be our best bottom fishing day of all nice going J.J.
What a great time was had by everyone once again on behalf of the Hooked Up and local Knowledge thanks so very very much and we are counting the days till next year to fish with East Penn and all their friends.
On the last day of the fishing with East Penn and friends I had my own charter the one and only Pete Pillone and his friend and partner Steve both from Georgia fly in to spend a couple days fishing in the islands.
I had had a few drinks with the whole gang from east Penn and Pete and Steve and I was feeling a bit under the weather to say the least. So having said that we headed right off shore set out our blue Marlin
Lures and headed south for an island called Ocean Kay while I made sure the couch stayed in the boat in front of the AC for a couple hours. (LOL)
We did manage to get a bite off shore but it turned out to be a reef shark. This was the first time I had ever caught a reef shark trolling off shore but it was enough to get me up and off the couch.
Once we got about 18 miles south of Bimini to Ocean Kay we tried a few deep drops in 625 feet of water catching a few yellow eye snappers and a 25 pound black fin tuna on the bottom. This was another first for me. I've never caught a tuna on the bottom but heck we'll take it.
At this point it was getting a bit late in the afternoon so we decided to anchor up in about 15 feet of water spark up the grill and throw some filet mignon on for dinner. J.J. decided to go for a swim and well let's just say that we ended up having some surf and turf. It just does not get any better than this. Beautiful water calm seas white sands cold AC and great friends and even better dinner. Sounds like a dream come true.
Its times like this that reminds me just how lucky I am to do what I do for a living.
After dinner and a few hundred beers we pulled anchor and headed out to about 85 feet of water and threw the anchor for the night.
We started chumming the waters and before we knew it the yellow tails showed up. We all picked at the snappers way into the night and then we all slept like baby's being rocked to sleep with the gentle waves.
As we all got up the fish were still swimming all over the back of the boat and J.J. went right back to it. I jumped in the rain locker (shower) and came out feeling like a new man. I told Pete about how good the shower felt and he was next soon to be followed by Steve.
Ok so we were all cleaned up and J.J. wanted to keep catching snappers. That was fine with us but we had enough and soon after J.J. shower up and we started our 66 mile ride home.
One the way home we did troll our big baits and managed to catch a 23 pound dolphin.
Thanks one last time to all the guys that help put this whole thing together.
On another note I have gotten a few e mails from some of our readers about such a long time between fishing reports to them I say sorry about that we were busy having fun and catching fish.
I am back now and will do my best to stay on top of all the reports.
Captain Taco (954) 764-4344 or toll free (877) SEA-4344
July 29
Today we started out fishing with Scott, Carolyn, Erik, John and Jennifer.
We started out trolling to the south working our way to a ship wreck that lay off the coast of Hallandale in about 180 foot of water. On our way down we were trolling with two deep lines on planner boards running about 45 feet down and 3 baits skipping across the surface. Trolling started out a bit on the slow side but we did manage to catch 4 or 5 bonitos on our way down.
Once we got to the ship wreck we brought in all the trolling gear and started trolling around the wreck with a couple of small clark spoons and caught a few small bonitos. Than we set the small bonitos out with trouble hooks in them.
Ok now the trap was set and we started slowly trolling these live bonitos around the wreck. Still having a hard time getting the bite J.J. set one of the live baits down on a down rigger about 60 feet down. That's when all hell broke loose. The rod bent over and line started peeling off the reel. Erik grabbed the spinner rod and the fight was on. For a while we just could not seem to budge the fish and we were thinking that he might have us hung up in the wreck but after a few min we knew we had him far enough from the wreck that we just might have a shot at this big fish on this light tackle.
J.J. was fishing 2 live baits at the same time so while they were busy down stairs fighting this fish J.J. handed me up the other rod and I just kept this live bait on the surface and far enough away so it would not get tangled in the line with the big fish on it.
After a good 20 Erik finally reeled in his big barracuda and the fish was in the boat.
Way to go Erik!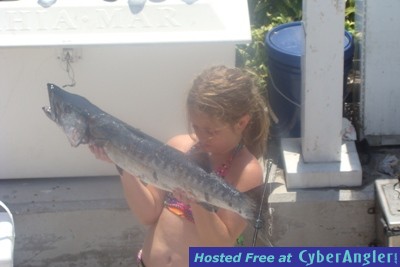 After some high fiving and some hand shaking we were working our way back toward the wreck when all of a sudden the water exploded behind the boat and our high line took off. We were Hooked Up again.
This time John got the rod and the fight was on. This time we really had no idea what we had on I just figured it had to be another big barracuda but after a good 15 min of back and forth tug a war we finally got a good look at this smoker king fish. J.J. got within inches of gaffing him twice but at the very last second the fish made a last ditch effort and RATS got away. Well that's why they call it fishing and not catching.
John nice job not to worry we must give the fish some credit he's trying to get away and this one just got lucky.
Thanks again guys for a fun day of fishing.
Captain Taco (954) 764-4344
July 30
Today we had Eric's best friends aboard to celebrate Eric's last day as a single man. Eric from South Florida his good friend John from Dc and Scott from New York City and Cody, Aaron and Colin all from Denver Colorado.
We once again started out trolling the reef and by this time of the day the bonitos were biting like mad dogs. I'm not sure how many we ended up with but it was a box full and we also caught 5 medium size barracudas.
Thanks again to all of our anglers today for a great day of deep sea fishing.
Captain Taco (954) 764-4344 or toll free (877) SEA-4344
July 31
Today we started out with Joe from South Florida and Peter and Ed from Texas.
Once again we went right to trolling the reef looking for some king fish and or bonitos.
Once again it was our planner boards that paid off in a big way. While we did catch a lot of kings and we caught more bonitos than we knew what to do with.

By the way the bonitos are the only none edible fish that we do harvest because we only catch them in any kind of numbers in the summer time and we try to stock up with bonito strips to hold us over for the rest of the year.
While they are not a good eating fish they will dam sure pull on the other end and make a big man look like a little girl. (LOL)
As we pulled in at the dock we had our afternoon trip waiting on us.
Another bachelor party what the heck is going on this is like our 4 bachelor party in a week.
We had Tyler the man of the day Mathew, Jay and Shawn all from New York and Bart from South Carolina and last but not least Michael from Ft Lauderdale Florida.
I am sorry to say that fishing was just slow this afternoon and while we tried everything all we could catch was 1 king fish and one bonito.
BUT the beers went down good I am not sure how many beers they drank but I think it might be some kind of world record. (LOL)
Tyler best of luck and sorry about the slow fishing.
Captain Taco (954) 764-4344 or toll free (877) SEA-4344
More Fishing Reports: