June Fishing Ft Lauderdale aboard Hooked Up
Capt. Taco Perez
June 21, 2011
Fort Lauderdale - Saltwater Fishing Report

June 1, 2011
Well here we are in June and June means break out the spoon. June has always been a great month for trolling the reef for king fish and bonitos and today was no exception.
We started out June fishing with William, Sam, Steve and Debark from Australian.
We started out trolling the reef with 2-planner boards running about 45 feet deep and 3 baits skipping across the surface.
Today the deep lines ruled catching king fish and bonitos one after another.

As we got back to the dock we had Cody and Mitchell from Utah eager to give their luck a shot at some deep-sea fishing off the coast of Fort Lauderdale aboard the Hooked up.
Once again we started out trolling the reef and yes once again the reef was on fire catching our limit of kings in no time along with a box of bonitos.
We ended the trip slow trolling some live small bonitos over a wreck and BAM we could do no wrong today with Cody landing a monster 50 inch greater barracuda.


Thanks again to all of our anglers today for spending the day fishing with us aboard the Hooked Up.
Captain Taco (954) 764-4344 or toll free @ (877) Sea-4344
June 3rd
Today we had Tray, Jennifer, Tanner and Ian all from Padoka Kentucky.
Today we set out our 2 kites with 3 live baits suspended from them and one dead shark bait.
We also set a shark bait down on the bottom and one more half way down.
We were hopping to get lucky and catch a sailfish ob a big shark but while we were waiting for the bite we kept plenty busy catching a few kingfish some bonitos and a nice black fin tuna.
Than all at once our deep rod bent over line started peeling off the reel and we were Hooked Up. Ian jumped in the chair and the fight was on.
25 min later up popped this 6-foot hammerhead shark.
Great action packed day thanks again guys and we look forward to fishing with you guys again soon.
Captain Taco (954) 764-4344 or toll free @ 9877) SEA-4344
June 3 pm
Today we left for Bimini in the Bahamas for a 10-day fishing trip.
We were invited to entertain clients for Car Quest and I've got to say this was a first class operation. All of our food, drinks, Bait and fuel were taken care of and as far as the clients you could not have asked for a better bunch of guys.
The way it worked was a plane would land with a bunch of guys and we would fish them for 3 days than another plane would land and pick the first bunch up and drop off another bunch of guys and so on.
So we would have the same guys breaking bread and drinking wine for 3 days at a time.
What a great time while fishing was just ok the weather was great and everyone there was just as happy as a clam just to be there us included.
The dolphin fish were hard to find the first few days but at last they showed up and we had more than enough. They were not big ones but they were the perfect size for the frying pan. We also did a lot of bottom fishing catching yellow tail snappers. A few groupers and some great eating yellow eye snappers and as far as trolling on the reef well there was as many ob should I say too many barracudas and also a good hand full of mackerels.
All in all it truly was a great time and we would like to once again thanks to Car Quest and all of the guys that came over and fishing with us and are all ready looking forward to fishing with all of you again next year.
Captain Taco (954) 764-4344 ob toll free @ (877) SEA-4344
June 14
Today we are finally back from the Bahamas and ready to start fishing Fort Lauderdale again.
We started out fishing with Jason, Chris, Frank and Sara all from St Louis.
We started out trolling the reef but today the reef was just not producing many fish for us we had caught only 2 big bonitos on the reef and by the sound of things on the VHF radio we might have been high hook.
All the same we decided to try a long shot so we went to a ledge and slow trolled a couple small bonitos and BAM we were Hooked Up.
We had hooked a spinner shark and this thing started out the fight by jumping all over the place but once he settled down it was a down and dirty fight. After a good 20 min we finally got this 5-foot spinner shark next to the boat. We got a hold of the leader and cut it as close to the shark as we safely could.
Thanks again guys I know fishing was on the slow side today but we will make it up to you next time.
Captain Taco (954) 764-4344 or toll free @ (877) SEA-4344
June 15, 2011
Today we spent the afternoon fishing with Mike the cop and his wife and soon to be mother Tammy along with their good friends Pat and his wife Dara.
We started out trolling the reef and watching Mike and Pat drink beers as if someone was going to take them from them if they did not drink them all quickly. (LOL)
They had all just gotten off a plane from Philly and needless to say they were just plain old glad to be down here in Sunny South Florida.
Let me start out by saying that Mike the Cop loves nothing more than spending the day out on a boat fishing. BUT he has this little problem. He gets sea sick but today the water were flat calm and Mike was just so glad to be out here fishing and not catching hell from his buddy Pat who always gives him a hard time about getting sick.
While trolling was a bit on the slow side today we did manage to catch Tammy a nice kingfish and then Dara also caught a nice king.
Ok time to bring in the trolling gear and set out the kites with some live bait suspended from them hopping to catch a big sailfish or a shark.
Once again fishing was a bit slow however Pat did manage to catch a nice 15-pound kingfish.
But all was well we still had some time left and now the only one who had not caught a fish was Mike.
Everything seemed ok but we did notice that Pat stopped busting Mike's chops and we were just about to find out why!!

Sorry Mike made me post this shot!!
That's right Pat got seasick when the waves were about 4 to 6 inches that is not feet. That's right it was just about as calm as it can get but old Pat just could not seem to take it any more.
In retrospect I think Mike got just what he wanted and this time Pat got to hear Mike give him a REAL hard time about not feeling good.
Mike, Tammy, Dara and yes even Pat thanks again guys you guys are a ball to fish with and we hope to have you guys aboard again soon.


Captain Taco (954) 764-4344 ob toll free @ (877) SEA-4344
June 18
Today we had what you would call a fathers day fishing trip with Steve and his father in law Rudy and also Steve's dad Jiancahlo all from New Jersey.
We started out trolling the reef catching bonitos one after another. We also caught a mackerel and one king fish while trolling the reef.
Once we trolled our way south off the coast of Hallandale we brought in the trolling gear and started hunting for small bonitos to set out over a shipwreck.
As luck would have it the seaweed was just everywhere and the small bonitos were tough to find.
Once we finally caught one we set him out over the shipwreck and BAM just like that he was gone. (RATS) We had the bite but pulled him off.
Ok back to trying to catch another one and the weed was still everywhere. What a pain so we decided to just fly our kites with 4 live baits suspended from them and send one shark bait down to the bottom.
Well as it turned out we made the right move because none of us were really paying action to the deep rod when al of a sudden it just bent over and line was just screaming off the reel..
Holly Cow we were Hooked Up with some kind of a fright train. I can't remember who got in the fighting chair first but I do know that for the next hour everyone took turns reeling on this Sea Monster.
Finally we got a good look at this huge hammerhead shark.
But the fight was not over by any means we still were going to try to slide this monster in threw the tuna door so we could get a measurement in order to have a replica trophy made out of this family affair catch.
About the 4th or 5th time Captain Greg got a hold of the leader I came running down from the fly bridge and we managed to get a head rope around his head.
As we were sliding him into the door we noticed he was hooked in the side and the hooks came right out without hurting this monster at all.
While we had him in the boat the shark actually wiggled his way around the fighting chair with a little help from us and than just swim right back out the door.
What a perfect way to release this huge Sea Monster to fight again another day.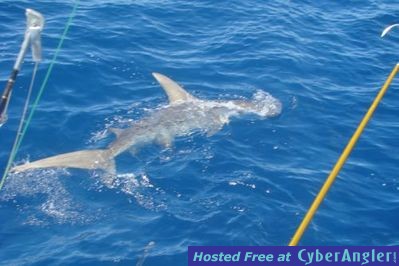 It turned out to be a Great Gray Male Hammerhead Shark at 139 inches long now that's a nice fish.
(We guessedtamated him to be between 450 and 500 pounds.) (WOW)
Steve, Rudy and Jiancarlo thanks again it was a blast.
Captain Taco (954) 764-4344 ob toll free @ (877) SEA-4344
June 19
Today we had some repeat customers-friends that have made the hooked up their go to boat here in South Florida.
We had D.J. from Staten Island and his brother Jon from Alabama along with Sara from North Carolina and last but not least Cara also from Staten Island.
We started out trolling the reef catching a few bonitos and a black fin tuna.
After trolling the reef we caught some small bonitos and slow trolled them over a shipwreck and landed a couple of nice barracudas.
Guy's thanks again for sticking with us aboard the Hooked up and we're looking forward to our next fishing trip with you guys.
O Yea I am still waiting for the photos so I can post them. (LOL)
Captain Taco (954) 764-4344 ob toll free @ (877) SEA-4344
June 20
Ok so today we got to fish with Monty and Robin from Arizona.
Once again fishing was not red hot however Captains Greg and J.J. found a way to make thing happen.
They started out trolling the reef catching a few bonitos and kings but all in all the reef trolling was on the slow side.
Captain Greg wanted to try some kite fishing for some big game but with the lack of wind kite fishing was out of the question.
Ok so no kites but there's more than one way to skin a cat. They set out one live bait way back along with some shark baits one on top one on bottom and one half way down.
The trap was set and soon enough it paid off when their shark bait on top connected to a balloon took off and the fight was on. After a good 25 min back and forth tug a war Monty had his 6 and half to 7 foot hammerhead shark to the boat.
After a few quick photos J.J. got 2 out of the 3 hooks out and watched him swam away in great shape.
Robin and Monty thanks again and I am looking forward to fishing with you guys on Wed.
Captain Taco (954) 764-4344 or toll free @ (877) SEA-4344
More Fishing Reports: