Mutton Snapper & Yellowtail Biting on our $40 Drift Fishing Trip
Capt. Paul Roydhouse
February 19, 2018
Fort Lauderdale - Saltwater Fishing Report


There are some nice snappers biting on our drift fishing trips aboard the Catch My Drift this week. Our daytime trips are doing good drifting out in 100-130ft of water. In the winter months, the yellowtails and other snappers generally go in shallower waters, sometimes as shallow as 20 feet or less. Around mid February (now), they start moving out to deeper waters. The majority of the snapper we catch are concentrated in the 50-100ft of water depth. Drifting works the best during the daytime because you can cover a lot of territory out there while the wind and current pushes the boat over the reefs. The best technique at night, when the snappers get brave and venture out from their holes, is to anchor and chum the waters. This brings all the snappers from downcurrent, right up to the boat.


Groupers are biting very good this month too, but they are out of season. Until May 1, we have to release them. Despite them being out of season, they are actually biting really good. We don't specifically target groupers, but they eat the same baits as the snappers do and inhabit the same waters. We call the groupers that we catch this time of year, 'Happy Groupers'. Reds, blacks, gags, strawberry and coneys are all biting in 60-100ft of water, so the same zone as the hot snapper bite is in.


Kingfish, cobia, blackfin tuna and mahi mahi are all caught this time of year, more sporadically than the snappers are. We catch them here and there, sometimes clustered up and sometimes totally solo. All the fish mentioned above bite the best on the daytime trips, but can be caught at night too. When fishing the daytime trip, I recommend a flat line rig or a 3-hook rig with a sinker to catch these larger reef dwellers. They typically bite surface or mid-depth baits rather than bottom baits.


Our drift fishing trips get a lot of action this month and a few nicer fish for those lucky or skillful enough to hook them. I love fishing February because it is a transition month between the big game winter fish and the action of the spring. Let's go fishing!
Capt. Paul Roydhouse
www.FishHeadquarters.com
754-214-7863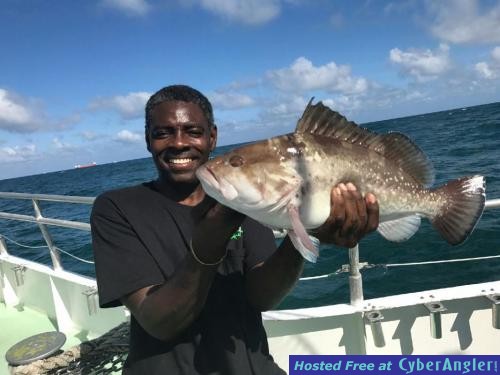 More Fishing Reports: