Night Fishing for Snappers Red Hot
Capt. Paul Roydhouse
January 8, 2016
Fort Lauderdale - Saltwater Fishing Report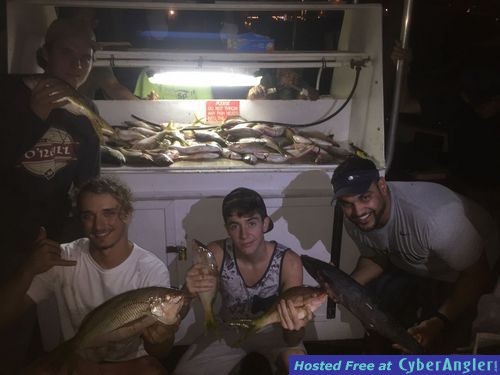 The anchor fishing for snappers is hot this week off the coast of Fort Lauderdale. Mangrove and Yellowtail snappers are biting excellent this year, perhaps the best year in a decade. Our numbers of yellowtail snappers lately has been double that of the norm. This is perhaps due to the fact that all commercial yellowtailing has been shut down for the past few months. The commercial boats had a banner year this year and caught their limit very early in the season. With no pressure on the yellowtails, the action is better than it has been in a very long time.


Mangrove snappers are biting great also. Big mangroves, up to 6-7 pounds are being caught. Fishing chunks of squid on the bottom is about as good as any other method to target these mammoth mangroves. Mangrove snappers eat anything but are very partial to squid, sardines, ballyhoo chunks and of coarse shrimp! As Bubba will tell you, shrimp is the fruit of the sea. A mangrove snapper has a hard time saying no to a delicious shrimp drifting by.


Snappers are biting great, but they are not the only fish biting on our night trips. Groupers are biting excellent. Too bad they are out of season. Grouper are another species of fish that we are having a better year on than in a while. Big black groupers are biting good, as are red groupers and a few other species. Even if we have to throw them back, they are exciting to catch and I'm very glad we're catching them.


Porgies, grunts, toros, the rare mutton snapper and a lot of other small bottom species round out the catches at night and give us good action throughout the night. Of all the trips we run at Fishing Headquarters, I will say that our night anchor trips are probably my most favorite... they're just so much fun. Good luck to everyone fishing this week. I'll sea ya on the water.
Capt. Paul Roydhouse
www.FishHeadquarters.com
(754)214-7863
Fort Lauderdale Fishing Forecast:

Snapper fishing should continue to be good for the next few months. Mutton snappers usually pick up throughout February. Lots of sharks will be coming through at night over the next couple months.
Target Species:

yellowtail snapper, mangrove snapper, mutton snapper, black grouper, red grouper, grunts, porgies, sharks, kingfish
More Fishing Reports: