Night time snapper fishing
Capt. Vinnie Sacks
February 5, 2017
Fort Lauderdale - Saltwater Fishing Report

Lately with daytime fishing be slow night time has been red hot bite on the reef, for snapper and other assorted bottom fish.
Fishing night time is also a great time due to no heat of the sun and usually flat calm water. The YB Normal is one of the only sportfishing boats in Fort Lauderdale that specializes in night time snapper fishing. This is what we do and we do it well, most nights limiting out early and comming home early.
In Fort Lauderdale there are 3 main reef systems, the 3rd reef which is in around 45 to 90 feet is best for night time snapper fishing.
Night time fishing has been very productive for yellowtail snapper, on reefs and shallow wrecks, with a hand full of mangrove snapper as well as mutton snapper. The best way to catch the yellowtail snapper is with a small weight of 1/16 or 1/8 of an ounce, using 1/0-2/0 live bait hook, keys Baits have been silversides and fresh ballyhoo. Best way to catch the yellowtail is by freelining the bait with the chum back to where the fish are feeding, you have to constantly keep letting line out to catch these fish, you are almost tricking the fish that your bait is a free piece of chum, yellowtail snapper are very wary and smart. While letting the line out once a bite happens there will be a surge of quick line taken off the reel, that is what the bite feels like, once you get a bite the best thing to do is close the bail of the reel and start turning the handle, no need to set the hook the weight of the fish will set the hook for you.
We typically have 4-5 customers join us on our night snapper trips everyone is welcomed to bring there own rod and reel, snapper fishing is more of a hands on type of fishing rather then putting a bait out and waiting there is always something to do.
Here are some photos from our latest couple of trips on the YB Normal.........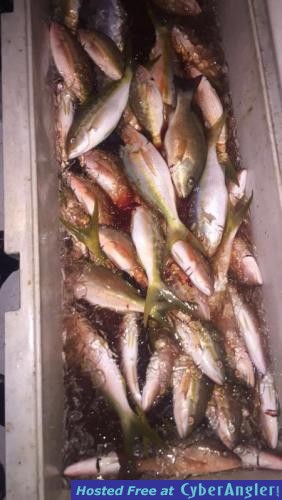 Fort Lauderdale Fishing Forecast:

Winds less than 5mph
Target Species:

Snapper, grouper, cobia, kingfish
More Fishing Reports: