Nov 1 threw 18 fishing aboard the Hooked Up
Capt. Taco Perez
November 18, 2009
Fort Lauderdale - Saltwater Fishing Report

Nov 1
Today we had Renee and her husband Travis from Tampa Florida out for a few hours of deep sea fishing with us.
Now let me give you a little back ground on Renee and Travis. They have their own boat and do a lot of fishing themselves when Travis is in town. Travis spends most of his time fighting for our freedom in the Middle East but as I understand it whenever he's in town and the weather permits it they are out on their own boat.
They just so happen to be in town for the Fort Lauderdale international boat show and had a morning open and that's where I came into the picture.
As luck would have it Travis had his heart set on catching one fish. (A Wahoo) as it turns out he had lost a big one right next to his boat and now that's what he has his heart set on Now there has been a few around lately so we spent some time trolling a bit faster than we usually do on the reef. But after a good hour of trolling without a bite we all decided to go off shore and see if we could find a few dolphin fish and who knows maybe a Wahoo.
As soon as we started heading off shore Renee who was sitting up on the fly bridge with me pointed out something in the water chasseing some flying fish. Sure enough it was a nice dolphin fish.
Well son of a gun it's not often that a customer finds the fish before me. So I knew I was going to have to be on my game today.
After an hour and a half more of trolling without a bite I yelled down to the cock pit for everyone to get ready because I had a feeling we were going to get into some fish. What they did not know was that I had found a 5 foot piece of bamboo floating and I had already seen a dolphin fish jumping around it.
We ended up catching a few more dolphin and we all had a great morning of fishing.
(BUT that is not where this fishing story ends)
On our dock we have 9 charter boats a dive boat some small boats to rent a one big sailboat that takes people out for a few hour sailing trips.
The Captain on this sail boat I've noticed always takes his son Will along with him on these trips.
I've also noticed that this kid always brings a fishing pole along with him. Well just after Travis and Renee left the dock this sail boat the Spirit Of Lauderdale backed into the dock and I noticed all this commotion behind the boat. As luck would have it while they were just sailing around Will had set out a bait and hooked into a fish and landed it.
Can you guess what kind of fish? That's right a Wahoo and I would guess the fish at about 50 pounds?
Renee I'm sure I will be getting a call from you guys as soon as you read this report (LOL)
As for Will WAY TO GO THAT'S JUST ABOUT AS BIG OF A WAHOO YOU GOING TO CATCH AROUND HERE AND BY THE WAY DO YOU WANT A JOB? (LOL)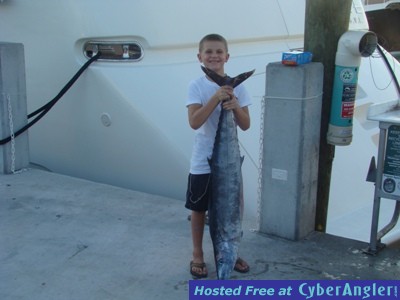 If you do find yourself down here in Sunny South Florida after your fishing trip aboard the Hooked Up you might want to check out this sail boat thing it really is a good time. Please don't let anyone know but I've actually gone out on this sail boat myself a few times and had a ball and who knows you might even get the chance to watch Will catch a big fish. You can check them out at www.spiritoflauderdale.com or give them a call at (954) 579-8181
Thanks for taking the time to read my fishing reports
Captain Taco (954) 764-4344 or toll free (877) SEA-4344
Nov 6
Today we had Stuart from New Jersey down to visit his friends Matt, Gregory, Michael and Jim and they decided to spend the morning deep sea fishing aboard the Hooked Up.
Today the ocean could not have looked any better. We had north current and the water was a perfect deep blue in color. Having perfect conditions like this means one thing (GOOD FISHING) and that was the case today.
We swung by the live bait boat and picked up some live goggle eyes and headed right to 180 feet of water and set our 2 kites with 2 baits suspended from each kite.
Soon after getting all of our baits set we got our first bite. It turned out to be a nice dolphin fish. Once we got the baits back in place again we got another bite this time Stuart jumped in the chair just as a big sail fish started jumping out of the water. This was no little fish and it was going to take a while to get to the boat. It was a big back and forth tug a war for a good 25 min but at last Stuart got this big 82 inch sail to the side of the boat. Our mate Luis reached over and got a good hold of Stuart's catch and pulled him aboard for a quick photo and a measurement to have a replica trophy made of this big sail fish and then we watched him swim away in good shape.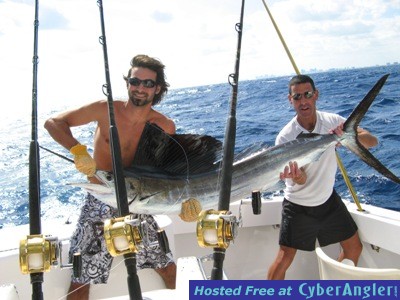 After some high fiving and some hand shaking we got the baits right back out there. And once again a big sail fish jumped on one of our kite baits. This time Jim jumped in the chair and the fight was on. It took a good 20 min for Jim to get his sail to the boat. Once again after some more high fives and some more hand shaking Luis got our baits right back out and you guessed it again
BAM we had another bite. This one turned out to be another nice dolphin fish.
At the end of it all we had caught two big sail fish and three nice dolphin fish for dinner.
Way to go guys and thanks again for a great day of fishing.
If you happen to be stuck somewhere up north and freezing your butts off well give us a call and you might be surprised at how cheap you can get down here in sunny South Florida with hotel, airfare and a good day of fishing for a lot less than you might think.
So give us a call and we'll be happy to help you get HOOKED UP.
Captain Taco (954) 764-4344 or toll free (877) SEA-4344
Nov 7
Today the Hooked Up had a great day of fishing. That is the good news the bad news is I was running my other boat the local knowledge and I had my camera with me on the other boat and we got no photos of the catch on the Hooked up.
Our morning started out with Andrew, Tracy, Krishna, Anirudh and Larry from South Florida, Houston Texas and from Bay Town Texas.
Once again the ocean was perfect with deep blue water and a good north current. Out went the kites with the live baits suspended from them.
They ended up catching A big sail fish and a couple of good size dolphin fish.
That same after noon we had Kenny from Chicago and two guys from Canada (did not get their names).
And once again out went the kites and once again the sails were biting and Kenny caught his first sail fish.
Thanks again to all of our anglers today.
Captain Taco (9540 764-4344
Nov 8
Today we took out Rob, Bob and Pat all from New Jersey and they were joined by Kenny who had fished with us the day before.
Once again I had the camera with me on our other boat the Local knowledge and the Hooked Up got no pictures of today's catch. However they did catch another big sail fish.
Captain taco (954) 764-4344
Nov 9
Today the seas were just about as rough as any day I have ever gone out fishing in. I was sure that we were not going to be out fishing today but Pat and Kim from Denver Co. said that they would be ok with it.
I never would have believed it but they really were ok with it. It was way to rough to do any trolling so I knew that the best and most conferrable thing to do was to go right out front and just set out our 2 kites and hold the boat into the wind.
This was working out pretty good except for one thing. The dolphin fish kept eating our baits and that's when it got a lot tougher to hold the boat, keep the kites flying and also try to get to the fish we were fighting.
But all in all it worked out well. We ended up catching 3 nice dolphin fish and then Pat hooked into a big sail fish. The sail fish was for sure a hard catch due to the seas but after a good 20 min fight we finally got his sail to the boat.
Thanks again Pat and Kim and hope you guys enjoyed the fish dinner and the roller coaster ride. (LOL)
Captain Taco (954) 764-4344 or toll free (877) SEA-4344
Nov 13
Fishing on Fri the 13th can be a good thing aboard the hooked Up. Today we had Captain Greg's Brother Mark aboard along with his cousin Mike and a close friend of the family John.
From the get go we knew what kind of fish we were looking for and today sail; fish was just what we had in mind.
We set our kites out in 150 feet of water and started our wait. From there it didn't take long till we got our first bite. And this was the bite we were looking for. John wasted no time jumping in the chair and the fight was on. It took a good 15 min till we finally got his first sail to the side of the boat. We got a couple quick pictures and watched him swim away in great shape. Way to go John.

One down and one to go since Mark had caught plenty of sails in the past we just had to make sure Mike caught one. So back out went the kites and the wait began. Finally after a good hour and a half up popped another sail fish and once again we were Hooked Up.
This time Mike got in the chair and it also took him a good 15 min to get his fish to the boat.

Way to go guys and hope you guys get into some good fishing tomorrow in the Keys.
Captain Taco (954) 764-4344
Nov 14
Today we had a last min phone call from a gang of six people from New Found land looking to do a little deep sea fishing.
We had Steve, Ken, Crag, John, Ken and Shawn.
We went right to kite fishing and today fishing was good. We ended up catching two sail fish one small silky shark one dolphin fish and a great time.
As soon as you guys e mail me the pictures I'll post them.
Thanks again to the whole gang and looking forward to fishing with you guys again when you come back.
Captain Taco (954) 764-4344 or toll free (877) Sea-4344
Nov 17
Today was a very interesting trip. It all started out when I got a phone call from a Peter who is a doctor over in Africa and his wife Callista who also is living in Africa and they wanted to take Peter's grand mom Frances out for a morning of deep sea fishing for part of her 80th birthday present.
Today was a perfect day to do this because the ocean was as flat as a lake and it was a cool 67 degrees out today. We decided to troll down the reef and see if we might be able to catch a few king fish so they could have a fish fry tonight.
As it turned out the fish started out biting very slow but as we worked our way to the south and away from all the other boats we got into them real good and we ended up catching our limit of king fish.
But I did find out that Frances was not 80 years old and that she would not be 80 for another couple of days. She made it very clear to me that she was 79 and did not want to rush into anything. (LOL)
Frances we are looking forward to fishing with you next year and by that point we can offer you the senor citizen discount.(LOL)
Peter Callista and Frances thanks soo much I really enjoyed fishing with you guys.

Captain Taco (954) 764-4344 or toll free (877) SEA-4344
Nov 18
It is funny how things happen in spurts in life. Yesterday we spent the morning fishing with a lady that was going to turn 80 in the next couple of days and today while this YOUNG couple was not that old there were no spring chickens either but they acted like a couple of high school sweethearts that had just meat.
I got a call a couple of weeks ago from this guy Ernie who told me that he was coming down to Ft Lauderdale and he wanted to take his new bride out for a day of fishing one day and then out to dinner by boat the next. Ernie also made it very clear to me that Mimi had to have a good time and end up very happy after our fishing trip because he said if Mimi's not happy no one is happy. (LOL)
Well I'm happy to say that both Mimi and Ernie had a ball fishing aboard the Hooked Up and to boot Ernie caught his first sail fish today
along with our limit of king fish and one bonito.

Mimi and Ernie thanks sooo much for a great fun filled morning of fishing and we are looking forward to our trip with you again tomorrow.
Captain Taco (954) 764-4344 or toll free (877) SEA-4344
More Fishing Reports: