Red Hot Reef Fishing on our Ft Lauderdale Deep Sea Fishing Trips
Capt. Paul Roydhouse
August 1, 2017
Fort Lauderdale - Saltwater Fishing Report


Great action on our Fort Lauderdale fishing trips this week. Bonitos and kingfish are tearing it up. We're limiting out on kingfish on most of our trips this week, and they have mostly all been big kingfish. Bonitos, blackfin tunas and barracudas are also snapping. Trolling the reef has been red hot for all of those species. The very rare wahoo and or sailfish also may jump on the line if you are lucky. You can catch a lot of odd-ball stuff on the reefs this month, you never know what you might get.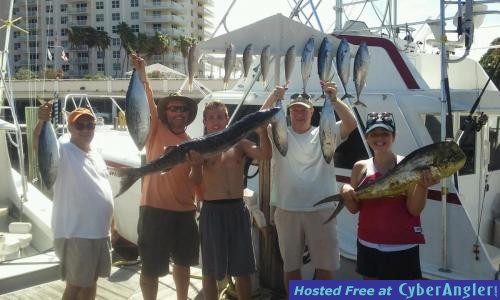 Action on snappers and groupers over the shipwrecks has been decent too. It's a good way to catch some fish for dinner if the customers aren't a fan of kingfish. Kingfish are great eating, so long as it is fresh. Once the fish has been frozen or sat on ice for a few days, it really looses it palatability. Snappers and groupers are excellent eating fish and they freeze well too. We're catching a lot of vermillion snappers when we go deep dropping in 200-300ft of water. You might have to experiment with some different areas to find the fish but once you do, it should be easy pickings. Every now and again, when you are deep dropping, sometimes really big jumps on the line such as a monster grouper, cobia, shark or amberjacks. Some monster jacks are lingering around the wrecks this month. It's a bit out of season for them to be biting this time of year, but I'm not complaining.


August is a good month for shark fishing too. We're catching some monster bull sharks, dusky sharks and now that we're into August, spinner sharks. Spinner sharks are so cool because they are one of the only sharks that jump, and when they do jump, they somersault and flip out of the water with ferocity. They are a very tough shark species and a helluva lot of fun to catch on light tackle. With all the bonito, kingfish and tuna action on the reefs, the sharks are certain to be close behind. This is a great month for catching numbers of fish and some pretty large gamefish on the Ft Lauderdale reef.


With the multitude of fish and different species on the reefs, Fort Lauderdale is a great place to come fishing in the summer months. There's lots of rod bending fish around, some good eating and some not. There are some big game fish around as well if you want to go for the gusto. All in all, you can't go wrong fishing in August. I'll sea ya on the water.
Capt. Paul Roydhouse
www.FishHeadquarters.com
754-214-7863

More Fishing Reports: