Sailfish and Big Game Sharks Are Biting
Capt. Rod Roydhouse
April 15, 2018
Fort Lauderdale - Saltwater Fishing Report


What a spectacular month for New Lattitude Sportfishing team. We customize our deep sea fishing trips to fish for big game sharks, swordfish and sailfish, the biggest gamefish that Fort Lauderdale has to offer. April through June is our month where we shine. This month, sailfishing has really gone off. We're catching them in 120-150ft of water, about a mile off our shoreline using the kite fishing technique. Using the kite fishing technique, we can target the big game surface feeding fish, ignoring most of the small stuff you catch when trolling.


Surface feeding gamefish that we catch when kite fishing are sailfish, big game sharks, larger mahi-mahi (usually the small ones ignore the kite baits), big tuna and on a rare occasion, marlin. This month is awesome for all of those species. If you are a big game fisherman or would like to catch something where it's hard to get it in the boat, this is the month you want to fish. And Fort Lauderdale is place you want to fish. We have an awesome migration of fish through our waters over the next couple months. It's flat out the best time of year to go fishing in Fort Lauderdale.


Shark fishing is extra hot this month. Hammerheads, tiger sharks, threshers, nurse, bull, dusky and more all come right past our inlet over the next few weeks; hundreds of thousands of them. If you're a big game shark fisherman, a large majority of our charters over the next 90 days are shark fishing charters. Good luck on the water everyone.
Capt. Rod Roydhouse
www.NewLattitude.com
954-707-2147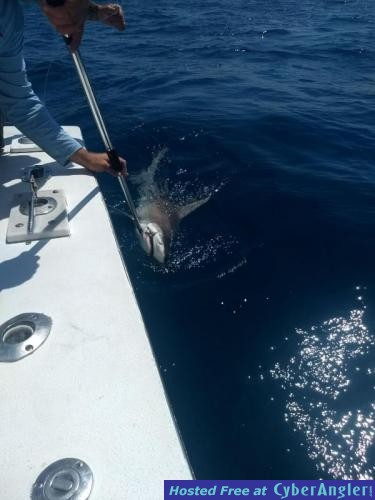 More Fishing Reports: