SailFish are Snapping off the coast of ft Lauderdale
Capt. Taco Perez
December 13, 2010
Fort Lauderdale - Saltwater Fishing Report

Dec 8 th
This morning I knew we were going to have our hands full with this group.
I don't know if it was the fact that all 5 of them were wearing captain's hats or if it was the big bag full of all different kinds of liquor and mixings.
Let me introduce the players in today's fishing trip.
We'll start out with Mike from D.C and his brother Doug from Miami then we had Josh from St Augustine, James also from South Florida and Karl also from South Florida.
We went right to kite fishing and drinking (did I say that?) we set out both kites with 2 live baits suspended from each one,.
Truth being told fishing was slow today and no one was catching much but all the same we got lucky.
It all started out with Doug catching a 15 to 18 pound kingfish. All at once another bite and now James jumped in the chair and we were fighting our second fish.
Now let me just take a second to say a little about this fight between James the fish and O yea Mike. Not real sure what happen there but for some reason Mike decided to stop James from turning the handle and yep that one got away.
But that was not where that fight ended because Mike could not understand why James stopped reeling and James could not understand why Mike put his hand over the reel so James could no longer reel. (Did I tell you about the bag of booze??)
Well things just got better and better as the trip went along. But I must say that for fishing being on the slow side we kicked butt today.
Mike caught a 30 plus pound Wahoo. Doug caught a 8 pound dolphin fish along with his big king fish, Josh ended up boating another 20 pound plus Wahoo throw in a good dozen bonitos and we had a great trip.
James caught a nice buzz and a hard time from Mike. (LOL)
Guy's thanks again I can't remember the last time I laughed so much. Doug good luck with the new bride.
And last but not lease I would like to thank all of you for forgetting your bag full of booze it wont go to waste!!!
Captain Taco (954) 764-4344 or toll free @ (877) SEA-4344
Dec 9th
Well here comes one of our first cold fronts of the year and along with the cold fronts should be the sailfish right behind them.
We started out this morning with Hoss and his good friend Larry both from Saskatoon Saskatchewan Canada leaving tomorrow on a Crew Ship and decided to give their luck a try at some deep-sea fishing aboard the Hooked Up.
I've got to say that they could not have picked a better time of the year for some deep sea fishing here off the coast of ft Lauderdale.
We started out by getting some live baits from the bait boat and headed right out to 155 feet of water where this ship had been anchored up for the past 4 or 5 days.
We set out both kites right next to the ship with 2 baits suspended from each kite.
The baits were all set and the trap was set all we needed now was for some big hungry fish to come along and take a bite.
First of all the wait was for about 3 min and not only did a big sailfish show up but 2 showed up @ the same time.
WE WERE HOOKED UP WITH A DOUBLE HEADER SAILFISH!!
What a blast we had one fish going north and the other going south so these guys were on their own there was no chasseing ether of these fish down.
But at last after a good 35 min of back and forth tug a war we finally got both fish to the boat and released them both in great shape to fight again another day.
We ended up catching 3 out of 5 sailfish this morning and we still had another trip to take out today.
Hoss and Larry thanks again we had a ball and hope your cruse goes as great as your fishing trip.
As we pulled back to the dock we had Andy and Katie from Wyoming eager to give their luck a shot aboard the Hooked Up.
I must admin that the bite did slow down for us in the afternoon however we did finally get a bite and this was a monster sail fish this time and Katie jumped in the chair and the fight was on.
I think this one fish gave us more trouble then the double header we had caught earlier today but Katie hung in there and after a good 30 min we finally got her sailfish to the boat.
We got a couple of quick pictures and a quick measurement to have a replica trophy made of her first sail and watched him swim away in good shape.
To all of our anglers today thanks so much for fishing aboard the Hooked Up.
Captain Taco (954) 764-4344 or toll free @ (877) SEA-4344
Dec 11
Today we had some locals from Fort Lauderdale charter the boat because of their good friends came down to visit from New Jersey.
We had Edd from Sam's marine one of the only Hatterass dealers that can still get old Hatteras parts and his wife Gail their good friend Doug and of course Pete who came down to visit.
At first fishing was a bit disappointing because it seemed the sailfish stopped biting but then all of a sudden we watched this fish hit the bait like a rocket and after 2 or 3 shots this nice Wahoo finally got a hook in his mouth and we were Hooked Up.
Pete grabbed the rod and the fight was on. Talk about a fast fish!! This fish ran to the left and then at a blink of an eye he darted off to the right. This went on for about 10 seconds next to the boat till this Wahoo zigged one to many times in front of captain Greg and it was all over for the fish in a second.
Nice going Pete and Greg that was one hell of a gaff shot.
We also caught a 5-foot black tip shark.
All in all a slow day but once we got back to the dock and heard what the other boats caught we were feeling a lot better about our catch.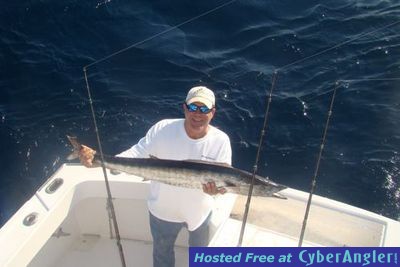 Edd thanks again for bring everyone aboard the Hooked Up.
Captain Taco (954) 764-4344 or toll free @ (877) SEA-4344

Fort Lauderdale Fishing Forecast:

Get ready folks did should be one of our best sailfish seasons in a long time aboard the hooked Up off the coast of Fort Lauderdale
More Fishing Reports: