Sailfish,Kingfish, BlackFin Tunas, Snappers
Capt. David Ide
September 16, 2016
Fort Lauderdale - Saltwater Fishing Report

The fishing with Lady Pamela II sportfishing has been exceptionally good the past couple weeks despite the risk of tropical storms and bad weather. We were shut down a couple of days because of heavy rainfall, but when the rain stopped the fishing was red hot. Our anglers on the nighttime snapper trips have been catching the limit on Vermillion snappers, and during the day, the Lady Pamela driftboat has been catching a little bit of everything, including mutton snappers, yellowtail snappers, vermilion snappers, and red groupers. We are also getting nice triggerfish, and a few king mackerel and bonitos always seem to make their way into the boat.
The mixed up weather has produced some good sailfishing, while the king mackerel, bonitos and blackfin tunas off the reef have been prolific. Deep-dropping on the shipwrecks has produced some big amberjack and Warsaw groupers, though they have to be thrown back as they are out of season. Around the full moon on the 16th we expect to see a big wahoo bite, fishing 200 to 400 feet of water, with a good north current.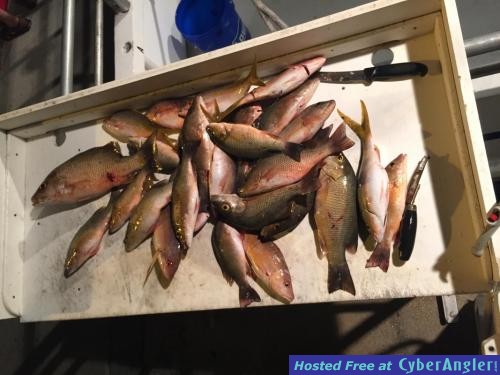 Now that Tropical Storm/Hurricane Hermine has passed, the Labor Day weekend is looking real good for mahi-mahi. Large amounts of seaweed, other floating material and bait has been stirred up in the Gulf and will be making its way to the Fort Lauderdale area in the next couple days. Lots of food for the mahi-mahi!! Also, the fall mullet run has begun so lots of finger mullet are starting to show up.


Remember, September 16 is the Harvest Moon, so give us a call and let's go harvest some fish!

Tight Lines,
Capt. David Ide
Lady Pamela 2 Sport Fishing
954-761-8045
www.ladypamela2@bellsouth.net

More Fishing Reports: