Big Sharks Biting on our Ft Lauderdale Fishing Charters
Capt. Rod Roydhouse
July 22, 2017
Fort Lauderdale - Saltwater Fishing Report


There are some big game shark biting off the coast of south Florida this month. Big hammerheads, duskys and bull sharks are all biting well. With the big migration run of bonitos and kingfish down our coastline, the sharks just follow the food... simple as that. Following right behind the big schools of bonitos that are migrating through are the predator fish such as sharks and barracuda. Any slower bonitos that can't quite keep up with the pack of healthy bonitos gets picked off as prey. Sharks are brutal creatures.

June and July is great for bulls and duskys but August is good for spinner sharks. Spinner sharks are one of the only shark species in the whole ocean that jumps out of the water. Spinner sharks are so cool because they jump out of the water and then spin. They sometimes do somersaults, cartwheels, and 720 degree flips out of the water in an attempt to shake the bait. They are hard to land because they often twist and turn during their jumps, so fast that they break the line as it gets twisted around their powerful bodies. There are very few sharks that have the agility and gymnastic ability as spinner sharks do. The only shark I know that can keep up with the aerobatic display that a spinner shark puts forth, is a mako shark.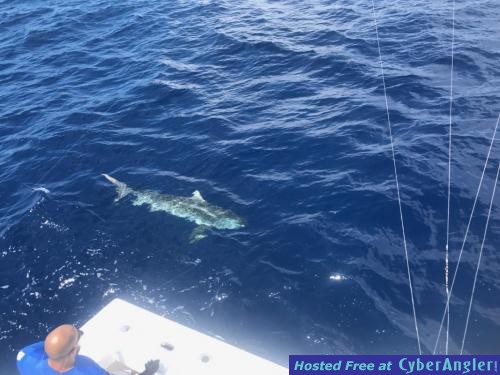 Shark season is winding down. We've had one helluva season this year since the February beginning of shark fishing season. This has been one of the most outstanding shark fishing seasons that I can remember in 20+ years. That's a good indication that the shark population is improving at an excellent rate. I look forward to finishing out the next 2 months of shark season with some great shark catches and then beginning of sailfish season, our second favorite season of the year. Sea ya on the water.
Capt. Rod Roydhouse
www.NewLattitude.com
954-707-2147
More Fishing Reports: