Spring Fishing is Really Great Right Now
Capt. David Ide
May 9, 2019
Fort Lauderdale - Saltwater Fishing Report

With Summer just around the corner, the Lady Pamela Sportfishing Fleet continues its hot streak! The Spring action continues to be off the charts and multiple species remain on the bite: Mahi Mahi, Sailfish, Wahoo, Kingfish, Tunas, Amberjacks, Barrcuda, Sharks and a host of Snapper and Grouper species!
NOW is the time to book your saltwater fishing adventure before the rest of our May and June fill up!
LARGE MAHI MAHI STILL ON THEIR SPRING RAMPAGE
Big Mahi Mahi are still on the prowl from 200 feet of water all the way out to 2,000 feet of water and beyond. We've had great success catching Mahi Mahi up to 30 and 40 pounds on both live bait in close and trolling bonito strips and rigged ballyhoo out beyond the reef. As we get closer to summer, the big Mahi will give way to more "schoolies."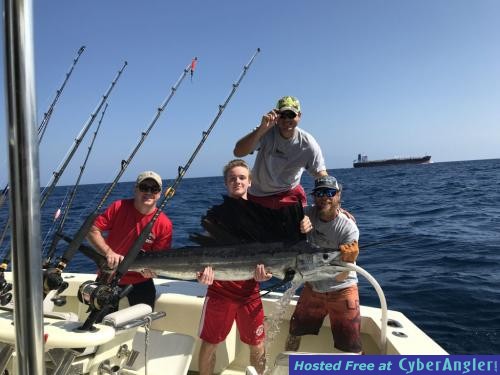 SAILFISH ARE STILL IN TOWN
As they did in April, Sailfish continue to frolic off of Fort Lauderdale and pounce on our live baits either slow-trolled or underneath our kites. Sailfish have been steadily found in between 90 feet and 180 feet of water.
That's the report for now. Come join us to get in on the rest of this amazing Spring action! Do you have a large group that wants to go fishing? No problem. We are the only boat in the area that can take more than 6 people on one single boat, so please give us a call as soon as you know your dates.
Tight Lines,
Captain David
Target Species:

Mahi, sailfish, tuna
More Fishing Reports: