Summertime Fishing Is Red Hot in Fort Lauderdale
Capt. Paul Roydhouse
July 15, 2018
Fort Lauderdale - Saltwater Fishing Report


The weather is hot and so is the fishing. We're getting great action on our trolling trips. Trolling is a technique of fishing where we keep the boat moving and drag several lures behind the boat to simulate a school of fish swimming. The lures are spread to look like they are trying to escape the predator fish that comes up to look at them. Trolling is great because we stay mobile, able to fish different depths and different zones. If we find a depth or an area holding fish better, then we can work that depth or area harder and catch them up. Trolling allows us to be versatile and switch up whenever we need to.


In the summer, the surface waters get really warm, a full 10 degrees warmer than the waters 20 feet below. So many fish like to stay in that cooler water column. When we are trolling, we get a majority of our bites on our 2 deep trolling baits. We always set 2 planer lines, which depending on the size of your planer, will pull the baits down 20-50ft. This gets the baits right in front of the fishes' nose, where they can't turn it down. While we do catch certain fish such as mahi-mahi, sailfish and tuna on the surface baits, we definitely get the most action on the planer rods.


Trolling is my favorite type of fishing in the summer months, because of the good action on all the different species. But bottom fishing is equally as good. Our drift boat, the Catch My Drift, does bottom fishing every day. They use chunk bait such as squid, ballyhoo, sardines and more and drop the baits down to the bottom. Along the reefs, there is a plethora of different species to catch. Main targets are the different species of snappers such as yellowtail, mangroves, mutton snappers and more. We also sometimes catch a variety of different groupers such as blacks, reds or gags, as well as tons of other fish like grunts, porgies, triggerfish and more. You can catch just about anything on the bottom and sometimes we even pull up super unusual fish, you never know. Bottom fishing is great because instead of trolling where you set the lines and wait for the bait, when we bottom fish you hold the rod and feel for the bite. It's more hands on fishing and a lot of people prefer bottom fishing techniques because its so hands on.


In the daytime, we usually do drift fishing but at night, anchor fishing and chumming is best. And at night, it isn't so hot so it's a really nice time to fish. Some fish, snappers especially, get really brave at night and they come out of the woodwork to search for food. When we anchor, we are able to chum, to try to bring the fish in to us. After about a half hour of chumming, the fish are generally pretty congregated underneath the boat so we can catch a lot of them. Just drop down and you instantly start getting bites. It's a fun way to fish and although you rarely catch any big fish when anchoring and chumming, we do catch great action on snappers, one of the best eating fish in the ocean.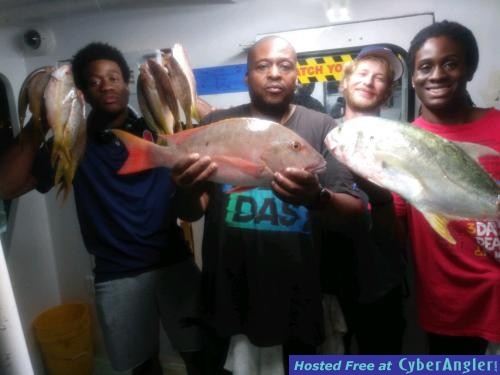 July and August have pretty similar fishing conditions, so we mainly catch the same species over the next couple months. In September, the fall fish start moving in but until then, we get some of the best fishing action you can get in Fort Lauderdale on the reef and edge of the Gulfstream. Good luck to everyone fishing this week. I'll sea you on the water.
Capt. Andy Roydhouse
754-214-7863 cell
www.FishHeadquarters.com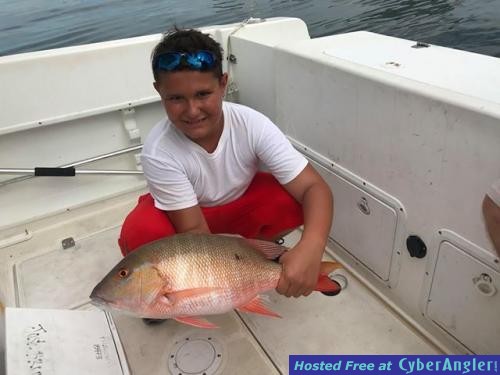 More Fishing Reports: