Wow, What a Week for Wahoo
Capt. Paul Roydhouse
April 10, 2018
Fort Lauderdale - Saltwater Fishing Report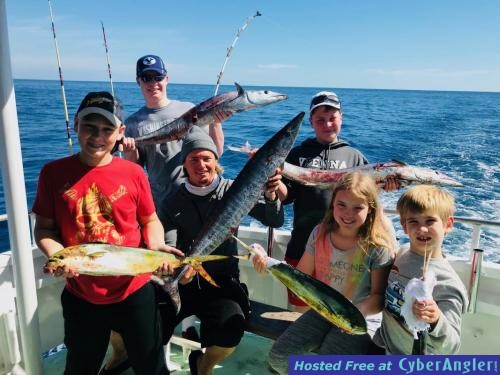 Great action on mahi and wahoo this week. Our boat the Mary B III, which runs sportfishing charters for bachelor parties and other large groups of more than 6 people, had some nice catches this week. The mahi-mahi are just beginning to come in on the reefs for their April spawning. They come in on the reefs 2 times per year, always when the wind is strong out of the East; April and November. This is the best month of the year for the bigger mahi-mahi. Although most of the mahi we've been catching so far are small, the big ones are not far behind. A couple days of strong East winds will push them in shallow, where we catch them right on the reef in 80-100ft of water.


Mahi aren't the only game in town this week. Wahoo are the other gamefish that is biting now. Wow, what a week for wahoo. We started catching them early last week and the action over the past few days has gotten better and better. We're catching the majority of our wahoo this week on the troll, trolling between 100-300 ft of water at high speeds. Wahoo are the fastest fish in the ocean. They can catch any bait you pull if they put their mind to it. At short clips, wahoo have been clocked at over 80 mph. They are shaped like a hydrodynamic missle and the best way to put it is they are built for speed. We've had several days over the past few days when we've caught 1, 2 or even 3 wahoo in a single half day fishing trip. Several of these 'hoos where over 60 pounds. That's a high speed, high powered gamefish!


The tides have a lot to do with it and this past week we've had some really strong tide changes. If you want to catch wahoo, you have to think like a wahoo. I like to fish just outside the reef on the incoming tide change, and just inside the reefs on the outgoing tide change. This puts you just upcurrent of the reef to pounce on any of the baitfish catching a ride with the tide, just like a wahoo would intend to do.


Plenty of blackfin tunas, kingfish, spanish and cero mackerals and bonitos are biting out there too to add in a little action on the trip. It's a great time of year to go out wahoo fishing in Fort Lauderdale. You just might catch a smoker. Good luck to everyone fishing out of Ft Lauderdale this week. I'll sea ya on the water.
Capt. Andy Roydhouse
www.FishHeadquarters.com
754-214-7863 cell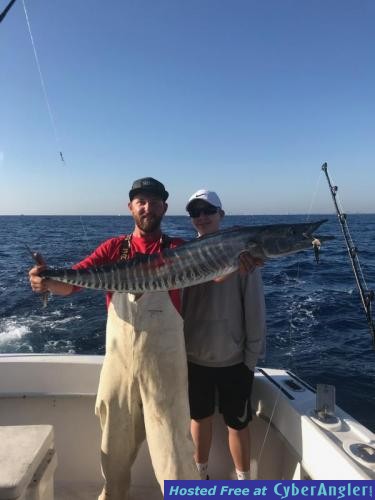 More Fishing Reports: