Wreck fishing and good reef action
Capt. Vinnie Sacks
April 2, 2019
Fort Lauderdale - Saltwater Fishing Report

Today aboard the YB Normal out of Fort Lauderdale Florida we had some great customers from Michigan, they had come down and book an 8 hour Sportfishing charter with us. Leaving at 8am sharp and returning around 4pm we had excellent weather today with flat calm seas and 75 degree temps, we started out catching some live bait at the whistle bout out of port everglades inlet in Fort Lauderdale florida which is only 1 mile from the beautiful beaches and in 120 feet of water, we put some chum in the water and caught some live blue runners to use later in the trip, we made a 1 hour ride after catching bait to a deep shipwreck where we would send one of the live baits on a heavy rod down to the bottom in hopes of catching something large, within minutes of sending down the bait we had gotten a bite and something large at that, mike was the angler and he fought the fish till he couldn't anymore and his sister Emily had to get on the rod and help after about a 30 min hard battle we had seen color on the fish and it was a beautiful golden amberjack weighing around 40 to 45lbs and excellent fighting fish and a trophy non the less.
After we decided to do a little bit of trolling for a few hours and had many multiple hook ups on bonito and some king fish, the bonitos are not great table fair but what they lack in food value they sure do fight hard, the kingfish we were catching were on planners which take the baits under the water to depths of 30-60 feet of water, kingfish are in the mackerel family and are pretty good eating if fresh they do not freeze well but they are great fresh and great for smoked fish, we ended up catching 7 kingfish and 9 or so bonito everyone was having an excellent time and steady action.
After trolling we decided to make another ride to another shipwreck off the fort Lauderdale coast, there are many artificial wrecks off the coat of fort Lauderdale only a few miles from the beaches as well, while making the move everyone decided to enjoy some lunch and air condition in the cabin of the YB Normal, we made it to our destination and decided to use another live bait and drop it on a ship wreck, another very fast bite and mike was the angler and decided to try and redeem himself and not let his sister help he did a great job and caught another golden amberjack, weighing almost 50lbs and incredible catch and definitely a once in a lifetime fish and experience.
Time was running out and we decided to head back to the dock everyone with smiles on there faces and a cooler full of fish, we headed back to our slip in beautiful fort Lauderdale docked the YB Normal safely and unloaded the fish for dinner and pictures another great tripů.
If your ever in fort Lauderdale and looking to go fishing check Out the YB Normal sport fishing for a great deep sea fishing charter
Book your trip with YB Normal (954) 559 4700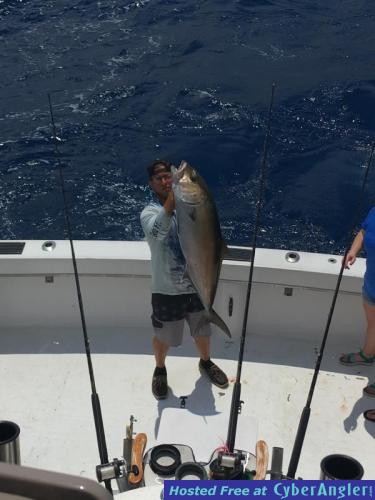 Fort Lauderdale Fishing Forecast:

calm winds
Target Species:

tuna dolphin wahoo kingfish snapper grouper
More Fishing Reports: