Cold front doesn't stop the bite near Fort Myers
Capt. Rob Modys
January 8, 2016
Fort Myers - Saltwater Fishing Report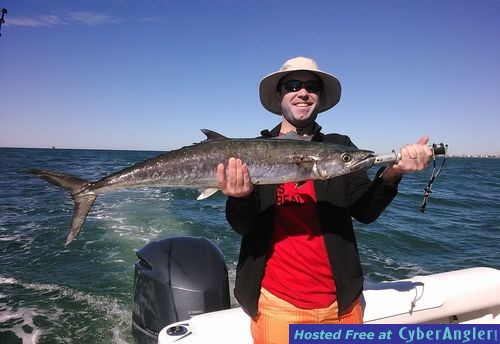 With a move to more winter like weather and temperatures, anglers are going to have to stay on their toes in the coming week. The usual cold fronts are now on the move and there may even be a mix of showers and sun just to make things interesting. No worries. The fish seem to like the change and adapt pretty quickly. It's up to the anglers to do the same.
Capt. Jon Fetter of Catching The Cure Charters noted that there were plenty of options this past week for anglers. The back bay seatrout bite was very good over the grass flats in 3 to 5 feet of water. Drifting shrimp under popping corks seemed to be the best way to locate and catch them. In addition to the trout, ladyfish, jacks, small bonnethead sharks and pompano were caught as well. The ladyfish were useful as cut bait for redfish around the mangroves and oyster bars on high water. The passes were full of variety for anglers. Mangrove snapper, ladyfish, silver trout, sharks, spanish mackerel and pompano were mixed in daily catches. Drifting using shrimp tipped jig heads provided the most action but a shift to popping corks worked well in the shallower water near the edge of the drop offs. 
Capt. Steve Sewell of Hawgwild Charters said that when the wind wasn't blowing the red grouper were biting starting as close as 40 feet of water. Four to six ounce buck tail jigs with a cigar minnow or a whole squid worked best. Inshore the seatrout, snook and big jacks were biting great on a high outgoing tide. Pilchards worked best. King mackerel are biting large threadfin herrings free lined in 12 to 40 feet of water. Just look for bait and birds on top and you'll find the fish.
Capt. Alex Dolinski of Spot On Charters managed to get out in the Gulf for some close in trolling for king mackerel. Best area seemed to be off of Naples in about 15 to 20 feet of water. Using Rapala hard baits his anglers, on a couple of trips, caught quite a few in the 10 to 35 pound range. Most were released but a few made it to the grill.
Capt. Brad Brown of Moonlite Charters reported good bait to be netted along the beaches, providing the wind wasn't blowing too hard. Tides were also good for fishing this past week. Action was not to hard to find but the keepers were mostly in hiding. Improving weather should switch that around this coming week. Seatrout were on the flats in about 3 to 5 feet of water and the redfish were around the bushes on the higher part of the tides. Action was in the rivers and creeks with lots of quality sized jacks.
Capt. Greg Stamper of Snook Stamp Charters noted that the biggest cold front of the year came in on Monday and that switched things around a bit. Before the front it was a mix of redfish, snook and big jacks all the way down to bluefish, king mackerel and grouper. Snook patrolled the backcountry haunts along mangroves mostly taking cut baits on 2/0 circle hooks meant for redfish. The redfish bite was good one day and bad the next with no stellar days in between. Most of the reds were under the 22 inch mark. Certainly the arrival of cooler weather and a better moon will help the bite this coming week. Big jacks moved in from time to time providing excitement on light tackle. Seatrout fishing was average with most fish between 13 and 21 inches in both Estero Bay and along the passes on jigs tipped with shrimp.
Capt. Larry Hendricks of Tall Tails Charters reported numerous limits of big mangrove snapper this past week along with goliath grouper to an estimated 300 pounds, amberjack and crevalle jacks on the reefs, weather permitting. Inshore were bluefish and seatrout. Hands down the bait of choice was pilchards. Whole or in pieces, it all seemed to work.

More Fishing Reports: