Estero Bay is giving up some nice Fall redfish
Capt. Rob Modys
October 1, 2015
Fort Myers - Saltwater Fishing Report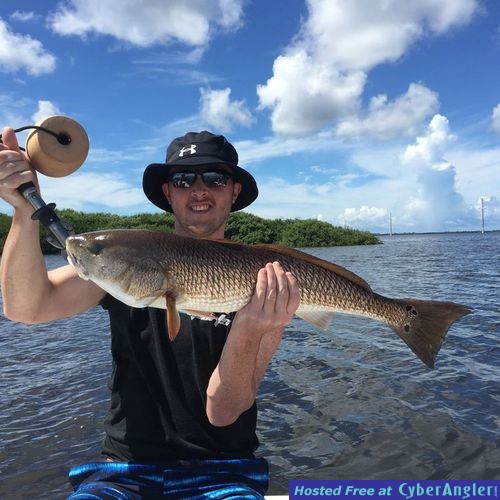 Despite a run of overcast and rainy days the reported fishing was quite good. As a matter of fact a lot of fishermen stayed at the dock and that left plenty of room for the hearty anglers that made their way out on Estero Bay and the Gulf. A drying trend is finally upon us with some cooler mornings in the future. Time to get out there and wet a line!
Capt. Steve Sewell of Hawgwild Charters noted that it was just a little bit rainy this past week but the fish were biting well offshore. His anglers had lots of action with grouper and snapper caught on live bait, cut bait and shrimp. Redfish have definitely started their fall gathering with lots of them showing up on the higher tides. Ladyfish chunks and live pinfish were their top choices. Capt. Steve also reported that there has been a pretty good run of pompano in the passes hitting pink tube jigs.
Capt. Jon Fetter of Catching The Cure Charters said that the fishing in and around Estero Bay is really starting to heat up and should only continue to get better. The redfish are starting to turn on and will take just about anything, although shrimp under floats and free lined pinfish seem to be anglers best option. Fish the mangrove islands and oyster bars on higher water for your best shot at these spot tails. There have been some real bruisers mixed in so don't be surprised if you hook into some over slot fish. The nearshore waters and passes are full of options for anglers looking to bend a rod. Pompano, silver trout, spotted seatrout, snapper and whiting are plentiful in and around the passes. Dragging shrimp tipped jig heads will work fine. Trolling the bait pods with silver spoons is producing spanish mackerel and ladyfish. Locate the birds and have fun.
Capt. Greg Stamper of Snook Stamp Charters reported great redfishing over the entire week and said that the days with some cloudy overcast have been the best. As we continue to transfer into our Fall months redfish are packing on the pounds eating pinfish, shrimp and pilchards. Tarpon continue their southern migration and can be found moving down our beaches as they follow the schools of threadfins. Spanish mackerel, jacks, pompano and lady fish are also running the nearshore waters so there's plenty to do if you don't find the tarpon schools. Seatrout fishing in 3 to 5 feet of water in the bays and in the deeper water of the passes has been good for numbers with some fish up to 18 inches.
Capt. Alex Dolinski of Spot On Charters noted that cut baits can be very productive during slack tides and on those days when mid-day tides produce hotter water temperatures. He likes to use mullet or ladyfish and said that fresh caught is always best but frozen will also work in a pinch. Cut a chunk in about a 1 inch square and place it on a 3/0 circle hook when fishing the grass flats and oyster bars. Letting the bait sit long enough to spread out the scent will pay off. Patience is a virtue. When fishing around the mangrove edges or shorelines Capt. Alex uses smaller chunks under a popping cork, with just enough bait to cover a 2/0 circle hook. This lowers the weight of the bait and allows it to drift around the mangrove points and cuts. 

More Fishing Reports: