Fort Myers Fishing Report- Inshore Tarpon Bite Is Great
Capt. Eric Anderson
October 2, 2015
Fort Myers - Saltwater Fishing Report

The inshore Tarpon bite continues to be outstanding, due in large part to all the rain that we had the first part of the week. Don't know what it is about Tarpon but they seem to be able to smell fresh water runoff and will flock to it for a few days until the salinity goes back up. With the forecast for this weekend here in the Fort Myers area for winds to gust as high as 25 mph now is the perfect time to get acquainted with our resident backcountry Tarpon.
The key to finding the Tarpon this weekend will be to get as far away from the Gulf passes as possible, which is usually just the opposite of what everyone puts in their fishing reports. However with seas of 3 to 5 feet the Gulf will be like mud and the incoming tide is going to bring all of that dirty water inshore. Any fish that are around the passes will really shut down due to the visibility dropping in all that muddy water. Take a look at your chart and find long fingers of water that go way back into the mangroves, that water will be clear because of a lack of tidal influence. In addition there are still a decent amount of freshwater runoff coming in the backs of most of those mangrove cuts and streams. That water will be very stained but crystal-clear and brackish just the way the Tarpon like.
It's a very simple bite, all you need is a top water bait that you're comfortable fishing and a twitch bait of some kind. For example any of they Mirro lure twitch baits are good, and so are Rapala twitch-n-Raps wraps if you still happen to have some. The fish are not picky, fish the baits with short quick twitches and you'll be shocked at how many Tarpon you can hook up in one day. It's interesting that Tarpon are the one of the few fish where hooking and catching are both counted sense so many jump off on the first strike. Either way they are sure fun to catch and one of my favorites.
To give you an example of the Tarpon fishing you can expect, my two clients today had at least 20 Tarpon that hit top water baits with a vengeance and still managed to jump off. At the end of the charter it was fisherman 0, Tarpon 1. They had so much fun they can't wait to go again! There are a few things in fishing as awe inspiring as watching a Tarpon as it puts on a great aerial display.
First Saltwater Fish Club
We all remember the first saltwater fish we caught regardless of size or species. I thought it would be nice to acknowledge their first saltwater fish caught on spinning tackle or fly rod. Here's Charles with his first Tarpon and First Saltwater fish. Take one off the bucket list!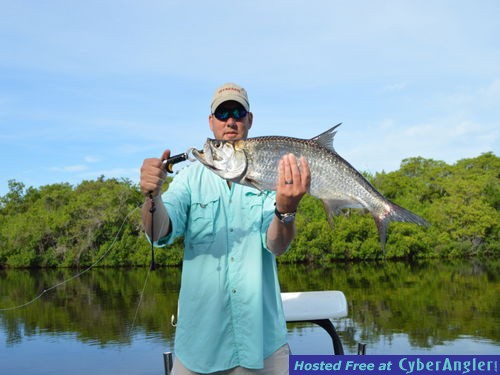 Capt Eric Anderson
239-290-4103
Capt-eric@whatahawg.com
More Fishing Reports: