Holiday week was a bonus for fisherman; lots of redfish!
Capt. Rob Modys
January 4, 2015
Fort Myers - Saltwater Fishing Report

The holiday week proved to be a great time to be on the water. Warm temperatures combined with good morning tides put the fish on the feed. The only drawback was morning fog, but if you moved slowly to your spot with a GPS you'd have the area locked down for a couple hours of all to yourself.
Redfish were the main focus. They were feeding around the mangrove islands from low tide to high and loved large live shrimp on jigs. They weren't schooled up, but would come in strings of 2 to 4 fish at a time. Most were small but quite a few were over 30 inches in length. Biggest of the week was 33 inches and weighed in at a whopping 14 pounds. As the tide hit its highest point the reds would move to the mangrove walls and feed well up under the overhangs. A well placed cast would get their attention.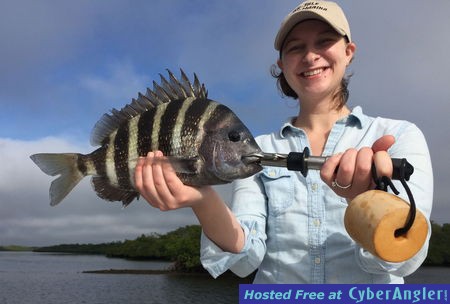 Sheepshead was the dinner fish and I'm happy to report that the bigger ones moved into the creeks about a week ago. My angers landed several over 3 pounds using small offerings of live shrimp on #1 circle hooks weighted with #3 spit shot. As always, patience is the key with sheepies. Let them eat and then reel 'em in.
The outbound afternoon tides were another story. Not much water was moving so the target was seatrout, jacks and ladyfish. All were caught but it was a chore finding water moving quick enough to make them eat. Popping corks worked best and also managed to attract quite a few bonnethead sharks.
Things will be a bit quieter on the water this week as folks go back to work and holiday visitors head home. Take advantage of this if you can. The full moon is upon us and that means good fishable water from sunup to sundown. It's time to wet a line!
More Fishing Reports: