Improving bite in the Fort Myers Beach area after storms
Capt. Rob Modys
April 27, 2012
Fort Myers - Saltwater Fishing Report

The week started off with storms and heavy winds, but by Tuesday things were starting to settle down. The fishing was tough, thanks to cloudy water in both the Gulf and the backcountry. As of today, Friday 4/27, the Gulf waters have settled and the back bay waters were clear enough to make out the bottom in 3 feet of water.
The sea trout bite returned to normal almost right away. There were a lot of small fish with quite a few slots mixed in. Live shrimp under popping corks fished over the grass flats, in about 3 feet of water, was the best bet. There were also some small sharks, jacks and pompano near the trout.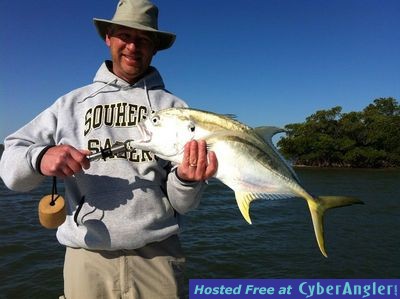 Large schools of big jacks, in the 10 pound range, have been looking for food in the north end of Estero Bay. They are chasing mullet and small bait fish. Look for the "explosions" on the flats, move to the area and cast a cork with shrimp or live bait to intercept them.
A surprisingly large number of spanish mackerel and bluefish were caught near the oyster bars in the north end of Estero Bay. I'm not sure why they were there but they would readily go after just about any small artificial silver or white colored lure.
The redfish bite was a little slower after the cold front came through but they are still along the east side of the Bay. The highest part of the tide works best using live or cut bait on circle hooks with little or no weight. The bite should improve as the water warms and winds shift back to the southwest.
The passes are holding a lot of small snapper, some trout and a mix of ladyfish, jacks and spanish mackerel. Live shrimp on jigs bounced off the bottom worked well.
Sharks of all kinds have moved to within a mile or so of the beaches. We've been getting blacktips, lemons, sharpnose, duskies, hammerheads, bonnets and bulls. Cut bait in 14 to 18 feet of water got their attention and we were boating 10 to 15 per 1/2 day trip.

More Fishing Reports: