June fishing very good despite rainy, tropical weather
Capt. Rob Modys
June 6, 2013
Fort Myers - Saltwater Fishing Report

Rainy days and the threat of tropical weather kept most anglers off the water this past week, but a few of us hardy souls ventured out and discovered the fish really don't care if it rains. Seems they are already wet. The forecast is for much improved weather as we head into the coming weekend and Tropical Storm Andrea should be only a memory.
You have to give wet weather a little credit. We may have to dress up in the rain gear but it sure does turn the fish on. They have been hitting just about anything we throw in the water.
The sea trout are up on the flats and most are slot fish in the 18 inch range. There have also been a bunch of over slot fish on the nearshore rock piles in about 18 feet of water. We've been using popping cork and jig combos with live shrimp in the back and shrimp on jigs bounced off the bottom in the Gulf. Artificials and flies are also working! The Rapala Skitterwalk and Storm's Chug Bug have been getting a lot of attention from the larger trout on the flats. Work the plugs slow and steady. For the fly guys.... Clouser Minnows in chartreuse and white have been working best along with small white Deceivers.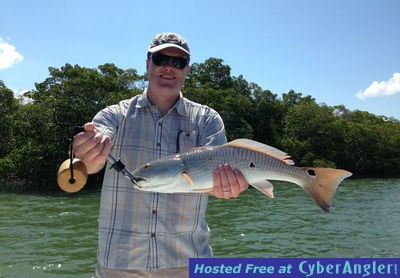 The redfish bite fell off a bit due to the slower tides but started to pick back up in recent days. The new moon tide ought to get them back in the mood shortly. We've been catching the big ones near mangrove shorelines using cut ladyfish on circle hooks.
Snook are along the beaches in big numbers for the spawn which started in May and will continue for the rest of the summer. This is a good time to score on a trophy photo fish. A big snook caught along a beach doesn't have a place to hide so you increase your chances of landing it. Remember... snook is catch and release until September, so take a quick photo and get it back in the water.
Sharks are still our main focus in the nearshore waters. They are on the feed and the numbers are increasing. Let me put it this way.... you couldn't pay me to swim in the Gulf right now! If you are looking for something to test you and your tackle, now is time to go after the toothy creatures.
More Fishing Reports: