Nicer weather brings better catching
Capt. Rob Modys
February 26, 2016
Fort Myers - Saltwater Fishing Report

Warm weather greeted anglers over the past week. Calming seas and less rain helped clear the water in the back bays and that made for much better fishing. The forecast is for more winter like weather for Southwest Florida. That means cool nights and warm days with little to no rain… Finally! Outbound tide reports were good but the inbound water was better and the color of choice on artificial lures and jigs was chartreuse.
Capt. Jon Fetter of Catching The Cure Charters said that there were quite a few options for anglers in and around Estero Bay this past week. When the winds allowed nearshore ventures the sheepshead were biting like crazy and with good size. Small 1/4 ounce jig heads or #1 circle hooks with a lightweight egg sinker both did the job. Tip each with just enough shrimp to cover the hook for best results. There were also spanish mackerel willing to take free-lined shrimp on circle hooks. Seatrout bit well on the shallow flats throughout the Bay. They were located near the edges of deep water drop offs. Live shrimp under popping corks worked well along with shrimp tipped jig heads worked along the bottom. The redfish bite was best on high water around the oyster bars and mangrove islands. Be patient and work an area throughly before moving.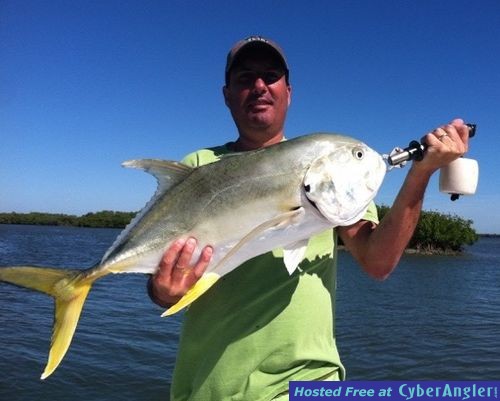 Capt. Brad Brown of Moonlite Charters said that nice weather this past week made fishing a lot more enjoyable. Seatrout, redfish and snook were his main targets, while using live shrimp for bait. A few black drum have shown up in some of the deeper holes in Estero Bay during low tides. Shrimp on a jig seemed to work best. Capt. Brad also said that it was a good idea to keep moving until you find active fish instead of waiting on them to show up.
Capt. Greg Stamper of Snook Stamp Charters said that good weather kept the fishing going. He did note that although the Lake Okeechobee water dumping was still occurring, it was possible to find a good bite where the water cleared. Nearshore the sheepshead, snapper, grouper and occasional amberjack fishing was excellent. His anglers caught a bunch of gag grouper along with mangrove snapper and sheepshead out to 40 feet of water. Shrimp worked just fine on
1/2 ounce jigs with 30 pound test leaders. The backcountry bite continued to be a mixed result, good one day and not so good the next. With that said, Capt. Greg noted that as the water temperatures rise, fishing will get better and more consistent. Redfish could be found throughout Estero Bay, as long as anglers kept on the move to locate them. Sheepshead were mostly found along with the reds. Spanish mackerel have moved into the back country. You'll know they're around when you start getting hits and then cut off. Seatrout were feeding in the passes as well as along the beach edges.
Capt. Larry Hendricks of Tall Tail Charters said that his reef anglers have been slaying big numbers with some grand sized sheepshead. His trips have consisted of grunts, mangrove snapper, short grouper, big black drum and an unusual catch… a polycheate reef worm. Capt. Larry said he had to contact a marine biologist to help identify it. Be sure to check out the photo! Inshore trips brought redfish and seatrout to the boat and Larry noted that there have been pilchards around the Sanibel Causeway. A big, heavy net will be needed for the deeper water.

More Fishing Reports: