Rain cooled Estero Bay gives up great bite
Capt. Rob Modys
August 26, 2015
Fort Myers - Saltwater Fishing Report

By early in the week we may be in a rainy situation thanks to an approaching tropical storm and the fact that we are still right in the middle of rainy season. The good news is these storms tend to really put the fish on the feed as they approach, so get out there when you can and enjoy the bite. But at the same time, be safe.
Capt. Alex Dolinski of Spot On Charters noted that the past week had great morning tides with high water that was cooler due to the previous evening rains. Seatrout, spanish mackerel, bluefish and small tarpon have been hitting top water lures in dark colors deep in the back waters and out on the grass flats. At the top of the tide the redfish have been plentiful around most mangrove edges. Live shrimp or cut pinfish on 3/0 circle hooks has worked well. On the falling tides the passes have produced flounder, trout, pompano and mackerel. Both blacktip and bull sharks are around the channel drop offs as well as in the passes and can be caught using cut mullet, ladyfish or bonita drifted behind the boat on a 8/0 circle hook.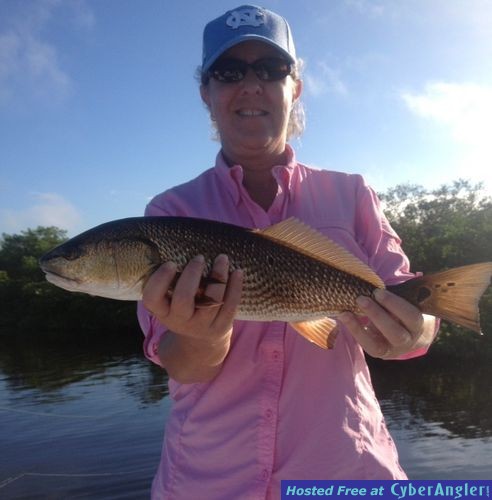 Capt. Neil Eisner of Fishing The Flats Charters said it was a good idea to load up on bug spray and drinking water and then head out early in the morning. The fish are chewing very well before the heat of the day. Using mid to large size shrimp, if you can find them, on a lead head jig worked during the early morning tides. Pitching them under mangrove overhangs will most likely get a hit within a few minutes. Redfish, jacks, snook and mangrove snapper were all in the mix.
Capt. Greg Stamper of Snook Stamp Charters said that the redfish bite continued to be great during August. Anglers have been catching nice fish both in the backcountry and along the pass shorelines. Snook are moving in and out from the beaches to the backwater, so fishing passes continues to be good. Most snook continue to be caught on live bait that's free lined using a fluorocarbon leader and a 2/0 circle hook. Seatrout are just off the bars in Pine Island Sound and are happy to take small jigs, swim baits and live shrimp on any tide. The pelagic fish are moving through as well this week with mackerel, flounder and bluefish being caught randomly. Keep an eye out on the offshore waters for floating debris, as triple tail should be around and willing to eat artificial and live shrimp.
Capt. Bill Curtis onboard the Fish-N-Tales said the nearshore bite continued to be excellent with good numbers of keeper sized red grouper being caught along with lane snapper up to 16 inches. He anglers still had to wade through lots of smaller fish to get to the keepers, but that made for great action. He also had a busy 10 hour offshore trip this past week. The fish are definitely bigger the further out you go. The catch included a limit of red grouper up to 30", a nice big gag grouper, lots of nice lane and vermillion snapper and a surprise from a keeper cobia caught on the bottom. As usual the bait was a mix of cut and live to keep the action going. 
Capt. Steve Sewell of Hawgwild Charters is back in action after successful surgery. Offshore trips are producing plenty of action with lots of limits of red grouper and snapper. The grouper are eating everything from various kinds of live and cut baits to shrimp tipped jigs. Mangrove snapper and lane snapper are in big schools because of their annual spawn which peaks in August. Small whitebait and shrimp are the baits of choice. A bag of chum over the side will bring them right up under the boat and then free line a chunk of sardine and you're on.

More Fishing Reports: