Summer's here and the fishing is fine!
Capt. Rob Modys
May 22, 2013
Fort Myers - Saltwater Fishing Report

The summer pattern seems to be firmly in place with light breezes in the morning and thunderstorms in the late afternoon. It's better to start early than late this time of year and remember, if you can hear thunder, you can be struck by lightning. Move to shelter and don't push the envelope even if you have to leave a good bite while fishing.
Fishing has been improving thanks to the upcoming full moon. Tides are moving along with good highs and lows. Redfish are back on the bite during the up bound tide. Look for them around mangrove islands and shorelines. Live shrimp on jigs seemed to work better than other baits.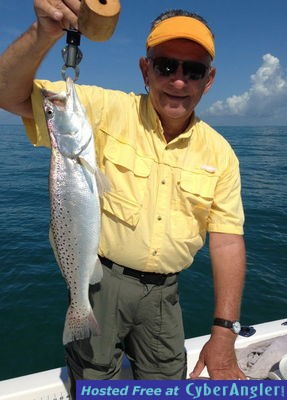 Sea trout are eating very well on the flats on the outbound tide. Look for color change edges in about 2 to 3 feet of water and go with live shrimp under a popping cork. We've been getting the biggest trout on the nearshore reefs. They are stacked up around the rock piles in about 20 feet of water and most are top slot fish. Live shrimp jigged across the bottom works well and they will also go after cut threadfin herring.
The nearshore waters of the Gulf are alive with lots of bait pods and an abundance of spanish mackerel. You'll also find jacks, ladyfish and a few bluefish mixed in. If you are looking for something big to tackle with and you don't have the patience for tarpon, try going after sharks. They are feeding in about 14 to 18 feet of water and some are huge! We've been getting a mix of blacktips, hammerheads, bulls and lemons.
The snook are on the beaches and spawn is underway. Live threadfins will get their attention but remember, if you see them, they've seen you. It's best to make long cast to beach water edges and then slowly "swim" the baits back toward deep water. Try to keep a low profile and make as little noise as possible for success.

More Fishing Reports: