Fun in the Sun
Capt. Freddie David
July 1, 2016
Haulover Inlet - Saltwater Fishing Report

I started the first week in June fishing Cat Island. For those who are not familiar with Cat, it is about a 100 mile long island located 330 miles off the coast of Miami. It is the third largest island in the Bahamas. Our target specie for this trip was the elusive blue marlin. The first three days of fishing started off very well. We went 4-6 on blue marlin. The average fish was 150lbs. The next three days we fished a tournament but had some horrible luck. Out of the three days fished we went 1-4. If we would of caught everything hooked, the tournament would've been ours. Other than the bad luck in the tourney we all had a great time and the fishing was very consistent.
When I returned from the islands, it was back to fishing Miami for a short while until my next island trip. On the reef between Fort Lauderdale and Miami we have been catching kingfish, bonita, wahoo, and blackfin tuna on the troll. Bottom fishing has been very good for mutton snapper, amberjack, cobia, and a few African pompano mixed in. This time of year we like to troll for the first few hours of the day and then run offshore before it gets too hot!
My next island trip destination was Orange Cay and Cay Sal. Upon our arrival the first tactic was to troll for pelagics and then anchor up at night for bottom fish. We only had a few hours to troll until it got dark but did manage to catch some good size blackfin tunas and barracudas. The first night on the hook was rather slow capturing just a few mutton snappers and a handful of yellowtail. The following day we did some deep drops catching yelloweye, button, black, and vermillion snapper. We also landed some giant amberjacks outside of 800ft. As it got hot the crew wanted to do some diving so we pulled the snorkeling gear out and let them venture into the crystal clear Bahamian waters. As it approached dark it was time to get ready for some more nighttime fishing. After a quick shower and a bite to eat it was time to get to work. After an hour or so of not much action I noticed a giant ball of squid in the water. This is normally a good sign when fishing at night. Shortly after it was game on. Giant yellowtail snapper, big mutton snapper, school master snapper, dog snapper, and big horse eye jacks until the sun came up.
By this time we had plenty of fish and it was time to troll a few hours in the morning until we left back for Miami. Shortly after our daytime troll spread was deployed, a giant wahoo attacked our lure but missed completely and never came back. To our disappointment it wasn't long until the right short popped out. I thought it was another wahoo until a good sized blue marlin started greyhounding all over the surface in the flat calm seas. It was a great way to end the trip so we left on a positive note after letting the nice blue go.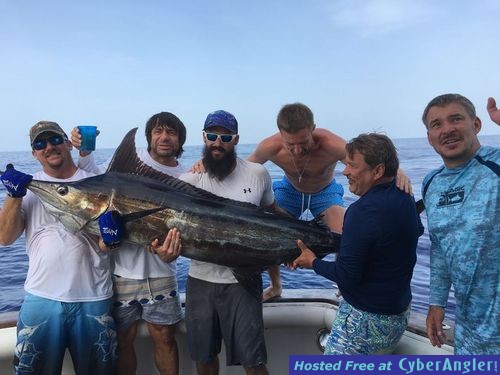 As I got back to Miami it was time to do some offshore swordfishing/mahi trips. The first trip we did the mahi were no where to be found but we got lucky and landed a 180lb sword on the bottom. A couple days after I did another sword trip where we landed another sword in the 100lb range. As far as the mahi are concerned it has been really hit or miss but should pick up when the full moon dwindles down.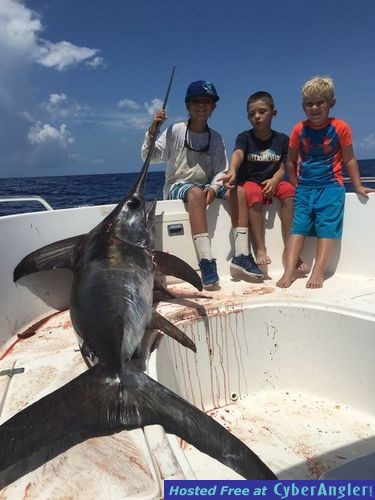 I will be headed to Hawaii next week but still have some availabilities for charters in July. If you would like to book a trip please send me an email or you can call me direct at 754-244-2531.
Tight lines and hope everyone has a fun and safe fourth of July.
Captain Fred David
www.charter-fishing-miami.com
(754) 244-2531

More Fishing Reports: