Scallop Fever
Capt. Joel Gant
August 9, 2016
Hernando Beach - Saltwater Fishing Report

Scallop fever in still in full swing. From Hernando Beach to Crystal river, look in the
4 – 8 foot water. If you don't have any ideas where to go, just look for the congregation of boats. With just a mask, snorkel and fins, scalloping is a great family fun day on the water. Also remember to put up a diver down flag and bring it down when you move the boat (it's the law). The regulations for scalloping are: 2 gallons whole bay scallops in shell, or 1 pint of bay scallop meat per person. Maximum of 10 gallons of whole bay scallops in shell, or 1/2 gallon bay scallop meat per vessel.
As for our Nature Coast fishing, between the very hot weather and rain storms, the fishing is still great. Gag grouper are still in season right now till Dec 31st. The gag bite has been good in our area in the 25 – 40 foot range. Try bottom dropping with a live pinfish, pigfish or use frozen threadfin, sardine or even squid. These baits have been producing best results. Remember the new regulations on slot size has changed to 24 inches for the gag groupers.
The trout, snook and redfish bite is still going strong. It's best to go early or late in the day, when the temperature is a little cooler. Best baits in the mornings are either top water lures like the Spook or subsurface lures like the Mirrodines or Rapala Twitch baits. Redfish will eat live baits or cut baits like mullet or pinfish. Early in the day look in the 1 to 3 foot areas around any structure like grass, rocks or oyster beds. Trout can still be caught in 6 to 10 foot grass areas on a ¼ oz jig with a 3" Gulp shrimp. Try drifting these areas bouncing the bait on the bottom. Doing this can also produce fish like: ladyfish, sea bass, mackerel, bluefish, grouper and a lot of other species to keep the day productive and fun. There is still some cobia around, so keep a stout rod ready with a live pinfish or frozen sardine. Cobias usually aren't too picky and are ready to eat just about anything you work in front of them.
Sharks are plentiful all summer, from Atlantic sharp nose, bull, nurse, tiger and even hammerheads. Best tactics for them are to start a good chum slick (a lot of times I will keep old fish carcass to use as chum). Once started, deploy live or dead bait on a 5/0 to 9/0 hook with a steel leader to at lease a 60 lb line. You will catch a lot of 3-5 foot sharks, but be ready for the big boy to come by and visit. As always with any shark, use caution when bringing them to the boat. It's best to cut the leader as close to the shark as you can and it will work its way out within a few days. As always check the regulation on sharks.
Get out there on the water and make some memories!
Capt. Joel Gant operates Fishdaddy Charters out of Hernando Beach, he knows the local waters like the back of his hand, and works both inshore and offshore trips. Check him out on face book or you can reach him at (352) 279-1615. Visit his website, www.fishdaddycharter.com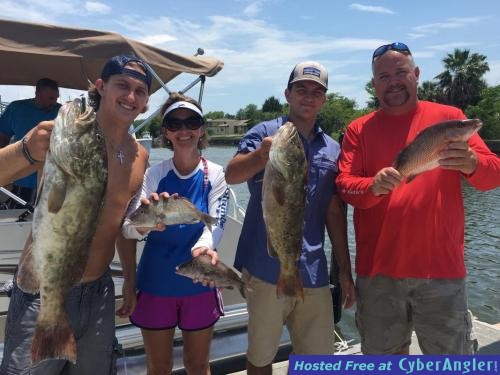 Target Species:

Scallop & gag grouper
More Fishing Reports: