Fish Freaks - Go Fish - Play Cards - Casinos
Capt. Mike Locklear
February 15, 2010
Homosassa - Saltwater Fishing Report

Hello Everyone! I am so freaked.....OUT! SEE YOU IN MARCH
Our neighbors to the south, the children of devastation deserve a chance....donate now to the Red Cross.
MEMO: For Immediate Release
Contact: Gary Dollahon, gary@dollahonpr.com
Crystal Dollahon, crystal@dollahonpr.com
Toll free: (866) 907-1605
"Organize tackle now for the 2010 fishing season"
Whether a weekend angler or one who likes to tournament fish, make the most of any downtime during this winter's crazy weather to prepare for the season by learning from two of the most organized pros on the professional bass circuit - Kevin VanDam and Tim Horton. Both men say their gear is already in top-notch order for 2010 because: one, they learned long ago the value in keeping it that way, day in and day out; and two, doing so is a key to their success.

VanDam is coming off the 2009 season with his fifth BASS Angler of the Year title and will have many eyes on him as he fishes for another title at the 2010 Bassmaster Classic on Alabama's Lay Lake. Whether watching him fish in person or on television, one thing is perfectly clear - he never wastes any time fishing for something other than fish.

"I know exactly where everything is in my boat," VanDam explained, "and there's a reason for that. We have only so much time to fish on any given tournament day and the only way to catch fish is when the line's in the water. I can't waste even a few seconds digging for a particular bait ... I have a system for keeping things in the same place and in the same order so I can go right to it."

The Michigan-based angler credits Plano Molding Company for his tackle organization on and off the water, saying he's the "king" of the StowAway 3700 series utility boxes made by the company. "The 3700s, regardless of the specific models and configurations, fit my needs perfectly whether on the shelf in my tackle room, in the truck or in my boat's compartments."

VanDam says he categorizes all of his baits by type, by box. His Strike King crankbaits are separated by series designations, another will contain jerkbaits of the same model, and then there are boxes for heavy cover jigs, football jigs, finesse jigs, soft plastics, and the list goes on and on. For spinnerbaits, he says he uses a combination of Plano's spinnerbait boxes and pouches, again with each containing a particular size and/or blade combination. Of course, he has a box for spinnerbait skirts, too.

"I like Plano's ProLatch colors because they allowed me a color-code system adopted long ago that gives me a quick visual as to what's what. My jerkbaits will be in my blue latch boxes, my deep divers are in the gold and so on. Of course, the boxes are clear and that makes selections even easier."

He always puts his hardbait boxes in his boat's right compartment and his spinnerbaits on the left side. In the middle compartment are his swimbaits and some bulk plastics that he might go through several of during the day. His large assortment of soft plastics goes in a back compartment for better distribution of their heavier weight.

VanDam said he takes full advantage of the company's waterproof boxes as well. He explained that the first thing he does every time upon getting in his boat is to put his wallet and cell phone in a Plano waterproof box that then always goes in the boat's side storage area.

"Yes, I have to be in control of the things that I can, and tackle organization is one. Pay attention to the boat decks and compartments of tournament anglers, and you'll see many of the most successful ones are also the most organized."

BASS Elite Series angler Tim Horton fully agrees. "Organization is the key to everything I do," he said. "When our tournament season starts, we can be on the road for weeks at a time so I discovered years ago that I had to get and keep my gear in tip top order from one event to the next. Once you get it that way, it's easier to keep up with what baits need replenishing, as well as adding new items to the mix."

Horton, like VanDam, said the StowAway 3700s are a big part of his fishing life, but that he also relies heavily on the smaller 3450s for things like his Carolina rig components, jigging spoons, treble hooks, etc. He explained having many smaller boxes for certain specific items can be just as valuable in saving time as space.

He said he also likes the Plano spinnerbait storage because it hangs the baits for easy reference and separation. "I'll have half a dozen or so spinnerbait boxes along with me on every trip, and there will be three or four of them in the boat at any given time with the spinnerbaits and buzzbaits needed for the water I'm on that day."

"What I'm doing for tackle storage is exactly the same thing that any angler can do. At only $6 or $7 each, StowAways are one of the greatest values in fishing today. And we all know how good Plano tackleboxes are because we grew up with them," Horton added.

For more tackle storage tips from Kevin VanDam, Tim Horton and other well-known anglers across the country, visit www.PlanoMolding.com.
BACK TO FISH FREAKED OUT LOCKLEAR I JUST REALIZED I WILL NEED TO GO UNDERGROUND. DON'T KNOW WHEN BUT I WILL ATTEMPT TO VANISH WHEN THE TIME IS RIGHT -- NO NAME NO ADDRESS AND NOTHING DOING!! JUST KIDDING!!! GO FOR IT DADDY! HAMMERTIME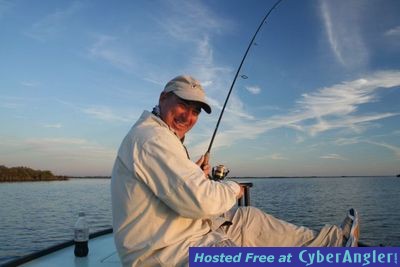 Target Species:

All or None - Whatever Bites - I recommend Peacock Bass in the Amazon
More Fishing Reports: