Homosassa Bluefish, Pompano & Trout Dawn the New Year!
Capt. Mike Locklear
December 31, 2009
Homosassa - Saltwater Fishing Report

Hello Homosassa, Florida! Hello 2 Steeler Fans! Hello to Walt & Bobby! Happy New Year Everyone!
Bobby, we tore the bluefish up today! Why did you not answer your phone? Walt caught 2 blues with one cast! And the most ever in a long, long time! All these pictures are the ones you asked me to put online Bobby, thanks and see ya next year!
Be sure to scroll down past the pictures to see the rest of my report! :-)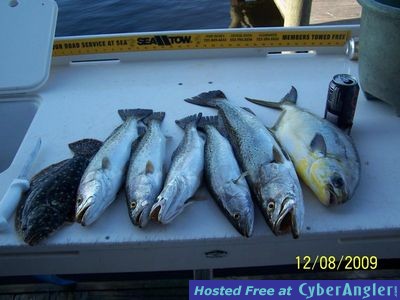 As I reflect back to the last year to the many ones who could afford to hire a guide, a big thanks to you. To the ones who can not afford a charter thank you also for your past patronage.
On the Eve of New Year's in my case, will be a quiet time at home. I will try to make it awake to 2010. What about you? What did you do? How many will be out there camping, hunting or fishing? These are the people I like to hang with whether I know them or not. I have never met a stranger.


I can say that I enjoyed what I like best today. On December 31, 2009 I went fishing with a neighbor and landed a nice 20-inch trout. Also, the bluefish action was hot and heavy. The rods were bending every cast and on top water MirrOlures.
My neighbor caught two bluefish on one lure! Whoa! How about that!!!??? We were using top water lures, when the double happened. You can rest assured that action in the gulf this winter will be hot no matter how cold it gets. I have a secret weapon and it is called the "Double Trouble" lure.
I am wishing you all the best New Year ever. We may have to live with less, downsize and put up with high gas prices at the pump, but we are not starving….yet. I am willing to work any job that is decent pay other than charters if any of you need extra help.
My favorite is side job are yacht deliveries. I can house sit or clean anything, drive, rake, paint, or organize your garage.
I can help God save you and that is free my friend! A gift of Eternity in Heaven. John 3:16 KJV Amen!!!
Rudy, I will be taking a leave of absence from CyberAngler until March 1st unless; something in the charter world occurs that is newsworthy for a report. It is the slow season and a time to get ready for the spring run of tarpon.
Everyone can contact me on Facebook, as that is where I spend more time than anywhere on the computer. If you have a job considers yourself lucky! Blessings!
You're Skipper,
Capt. Mike Locklear
P.S. ALL CABLE COMPANIES ARE GREEDY [bleep]. BOO BOO BOO TO FOX, BH AND TW. I AM THROWING MY CABLE BOX AWAY IF FOX DROPS BH. CABLE BILLS ARE ALREADY TO FREAKIN' HIGH...WE WANT YOU FINED BY FCC AND A REBATE TO ALL BH CUSTOMERS FOR STRESSING US OUT! [bleep]! DAMN RIGHT I AM CHRISTIAN. WE DON'T NEED YOU CABLE PEOPLE!!!!
Homosassa Fishing Forecast:

BLUEFISH! BLUEFISH!! BLUEFISH!!! ALL THIS NEW YEAR SEASON FEEDING FRENZY ACTION & ROD BENDING
Target Species:

Bluefish Trout Sheepshead Redfish Mangrove Snapper
More Fishing Reports: