Spotted Sea Trout and Gag Grouper red hot off Homosassa
Capt. Mike Locklear
November 30, 2010
Homosassa - Saltwater Fishing Report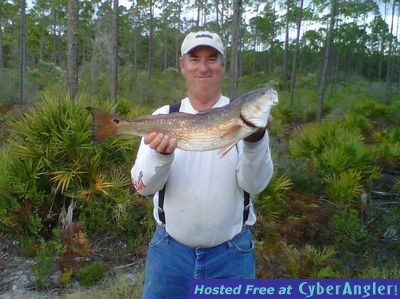 Homosassa and Crystal River Fishing has been red hot. On fire. Redfish, trout, grouper, sea bass, and grunts to name a few. A 22-year client, Dennis Kennedy of Tampa-Homosassa and brother Brad of the Chessehead state enjoyed a beautiful day on the water with me yesterday.


Among the many snake fish of numerous sizes, the bag was a two man limit of spotted sea trout, plus one for me. 11 total in keepers between 15.1 to 17-inches. We must have thrown back 25; 14-inch trout in addition. Almost every fish we caught, tried to inhale the Cotee Jig and Gulp Bait.
What was really cool, I am allowed to use Scott Orr's new boat and did not leave the dock until 10:30 A.M. and returned by 3:30 P.M. This time of year, we fish pretty close to shore, so it is a short run out of Mason Creek.
More below on Scott Orr's God given talent and his Glory to God boat. We really tore them fish up! Thanks to God and Scott!
17-year client, Ben Bumgardner of Gastonia N.C. along with a friend from Tarpon Springs, FL whom I enjoyed meeting tried our luck at Gag Grouper. Ben has never short for words and he made a comment about his new found friend being a wuss. You see, these rods were a little on the heavy side using 65-pound test Power Pro with a three foot leader. The lure of choice is a 9-inch MirrOlure, Bomber or Rapala. You have to be experienced and disciplined to repeatedly cast over and over again. Ben's friend was wore out and unenthusiastic after about 3-hours of casting and nothing but a few snake fish and one rock bass. After some fruitless trolling and grassed up lures, I finally found a rock that look like it might house a keeper. Mind you we are in only 8-feet of water.


Ben laid a cast out past the rock 20-foot or so and brought it back along the edge and nothing. But the big Gag was chasing the lure and Ben could see this and got fired up! A few more cast and son he was hooked up. I looked over at Ben and he was all bowed up on the rod and reel bent like a horse shoe. Thank goodness I was trolling away from the rock when he hit the lure giving Ben a better chance of landing it. And that Ben did. He was so happy.


Later that day we came into some trout in Mason Creek and on Ben's first cast he landed about a 3-pound trout. He quipped, "Grab the net" and I scooped him up. Later he said "now that will have some thick fillets". We got dinner.


Walter Techjman and I slipped out for some fun fishing this past week and put 8-keeper sea trout in the boat. And we were in Scott Orr's newly fabricated 24-foot "Flatsrunner" powered by a 115 HP Mercury 4-Stroke. Now people, this is absolutely without a doubt the shallowest running skiff I have ever operated. And the roomiest skiff to fish from as well. Totally hand crafted and completely welded with one-quarter inch Aluminum by Scott Orr alone. The boat has two 36-inch wide flat pontoons with a slight rake forward. Centered is a 24-inch tunnel where the motor gets the water to fully utilized the 6-inch Bob's Jack Plate. I would say this boat draws 7-inches underway.


This is one of a kind boat you must see if you are thinking of fishing shallow. Guide or recreation, the boat will amaze you beyond your wildest dreams. This skiff is the first and will never be sold, however, the second one could be a special order just for you.
The fish are biting! Let's Go Fishing!
Remember, get out there and go fishing if you can; cause it is "Good Fer Ya!" Ernie Lee

Homosassa Fishing Forecast:

In-between cold fronts or better yet a stalled front turning north into a warm front helps the bite and keeps the water temps around 65-70 for our area around Homosassa, Crystal River and Chassowitzka.
Look for trout, reds, grouper and mackerel to be active until it freezes.
Target Species:

Spotted Sea Trout RedFish Grouper Mackerel Blues
More Fishing Reports: