Redbone Tarpon Tournament
Capt. Taylor Powell
April 18, 2016
Islamorada - Saltwater Fishing Report

I'm very humbled to report that we won the Redbone Tarpon Tournament in Islamorada over the weekend. It's for a great cause "To Catch the Cure" to benefit Cystic Fibrosis. The structure of the tournament was a few hours of sunrise/sunset Tarpon fishing over the course of 3 separate trips. All tarpon had to be over 48" inches to qualify.
We struck out on the first leg going 0 for 3 and lost a big fish on 12lb spin to a bridge piling. The lead boat had a great morning and was leading the tourney with 4 fish. On the second leg I switched my strategy and made a long run to a different area toward the West. My gamble paid off huge and we wound up going 3 for 4 and we're now sitting in 2nd place. That lead boat wound up adding 1 more fish to their tally that night, keeping them in the lead with 5 fish. So the pressure was on the next day of fishing. We would need 3 fish to bump us into 1st place and we would need the leading team to strike out for us to show for the event.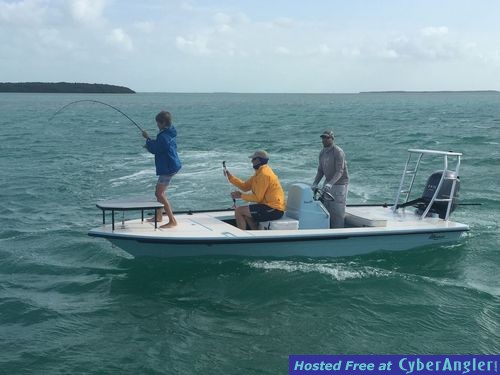 The weather on the 3rd leg was horrible. I knew it would be a challenge to catch 3 Big Tarpon in rain and 25kt winds. I also knew it would be tough for every other guide that day and not a lot of fish would be caught. Luckily we made the right moves and my anglers Alex Maass(father) and Leo Maass stayed tight to the fish we hooked and we proceeded to go 3 for 3 that morning and we took home the win with 25 minutes left in the tournament and 6 releases overall. We won Top Team, Leo Maass won Master Angler with the most releases, and I received The Top Guide award.


Leo Maass is only 13 and is far adhead of his peers. He's a great angler, and will be a force to reckon with in the fishing community when he's older. It was a special win for me and this father and son team. Super cool how a 13yr old beat up on the fleet of 18 boats and some of the best guides and fishermen I know. Everyone in the tournament was super nice, even all the guides and anglers rooted for this young man to win. It was a first class event with first class anglers and guides participating. I'm truly greatful for this experience.


Please give me a shout if you want to catch some Big Tarpon. I only have 2 days left open this month and a few days in May. Cheers!-
Captain Taylor Powell
305-546-8864
www.flyfishsouthflorida.com
More Fishing Reports: