Off the Charts Fishing Right Now!
Capt. James Howard
May 19, 2008
Jacksonville - Saltwater Fishing Report

Well the winds have stayed fairly stiff this past week but the fishing has been off the charts for me and my clients. I had 3 trips the past week which all produced great results and very HAPPY clients…….

I'm going to combine some photos from all 3 trips in the report this week. I hope you will enjoy them as much as I did taking them!!!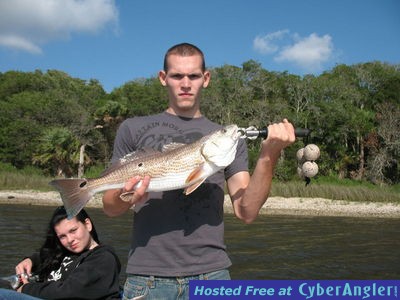 The Reds and Trout have been almost like clock work. The Reds are chewing on blue crabs and mud minnows just about any time your on them. I'm catching the Trout on live shrimp and top water baits when the conditions are right for the artificial.


There has also been plenty of big Ladyfish and nice Jacks also. Right now is just a great time to get out and go fishing. It is still a little early for the Tarpon here but I did seen one in the back waters the other day.
The spring Flounder are starting to fill up the creeks and I'm catching a few every trip now. Not a lot of big ones but nice 14 to 18 inch ones.


Well I'll be back to you in a week with the results from my trips this week.


Until then tight lines and thanks to all for the great times and fishing last week.
Capt. James Howard (904)651-9557
Jacksonville Florida www.gofishjax.com

Jacksonville Fishing Forecast:

Nothing but good fishing right now. It would be very hard not have a banner day on all the target species.
Target Species:

Trout/Reds/Flounder/Ladyfish/Jacks
More Fishing Reports: