February Forecast Jacksonville area waters
Capt. Bob Cosby
January 31, 2014
Jacksonville - Saltwater Fishing Report

January has been cold and windy, but we've still managed to catch some nice fish. Hopefully, February will be kind to us with improving weather. This time of year certain species seem to tolerate the cold better.
Sheepshead will be biting wherever you can find structure such as jetty rocks, pilings, and bridge supports. Fiddler crabs, clams, blue crabs, and live shrimp can all be effective baits for these tasty, convict striped fish. Hooking them can be challenging, but they are worth the effort as table fare.
Yellowmouth trout bite well in cold water. They tend to school deeper than their spotted cousins, and can often be caught on jigs or bottom rigs. Speckled trout catches have been spotty. Float rigs drifting live shrimp work best for the specs. The two species taste about the same, and I think the yellowmouth fight a little harder. Whatever fishing technique you employ, slow way down because your cold blooded quarry's reflexes are slow to respond to bait or lure.
When the weather allows fishing the jetties, redfish, black drum, spot tail porgies, margates, and the occasional legal black sea bass are all potential catches. Of course, bluefish are roaming throughout our waters, and can crash the party at any time.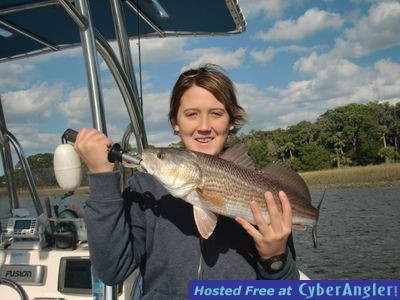 Surf fishing should produce whiting, drum, and blues, particularly on warmer days. Later in the month you might find a tripletail hovering near a crab trap marker or other bit of flotsam along the coast.
Watch the weather, pick your days, and enjoy some inshore fishing along Florida's First Coast this February!
CAPT Bob Cosby
More Fishing Reports: