BIG GAME + NO LONG BOAT RIDES + LIGHT TACKLE = FUN!
Capt. Dave Sipler
September 5, 2013
Jacksonville - Saltwater Fishing Report

BIG GAME + NO LONG BOAT RIDES + LIGHT TACKLE = FUN!
at www.captdaves.com sport fishing charters.
Yes, that's the way things have been now that we're winding down on deep summer. August & Sept have always been known as BIG Shark time. And Tarpon time.


But most of the time the Sharks are way more willing to eat what you serve them than most North East Florida.


As I always say, "Our Tarpon aren't cosmopolitan like they are in S. Florida."
But they are certainly around.
But when it comes to what's hot, it's the Spinner and Blacktips while running and gunning behind the local shrimp boat fleet. From just outside the Mayport jetties (St. Johns River Inlet) to further south off Ponte Vedra beach.
From 50 to well over 100 pounds. Yeah, I consider these BIG GAME, since I'm a die hard Speckled Trout tracker.
*******WATCH VIDEO HERE: http://youtu.be/pMwniGNujz0
And top shelf Speckled trout fishing is still a month or so away. (OCTOBER-NOVEMBER)
So why not get into instant hard pullers?
I call it "I.G." - instantaneous Gratification!
The hook ups on these hardy and hungry Spinner and Blacktips can be a matter of seconds after the first bait is pitched out.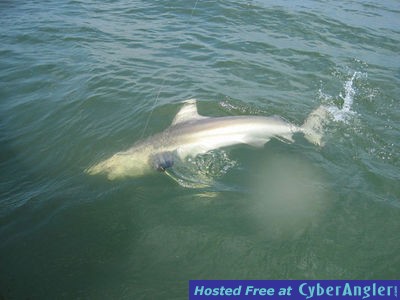 This has been the absolute perfect Family Fishing Trip, all summer long.

Mom's love it as well as dad's and the kids.


Then, as we head in. We can hit the Jetty rocks at the inlet.
Sometimes we'll pick up a Jack, another kind of shark, a Redfish, or just a bunch of Croakers for the kids to catch fast.
It's all about getting on the action FAST. It's fishing, not boat riding. It's bites, not waiting around for one.
Wives, Girlfriends, Mom's, Sisters, Daughters. Don't leave them behind. They'll have FUN too!
MORE FISHING REPORTS: www.captdaves.com
Jacksonville Fishing Forecast:

It's the first week of Sept. and things will rapidly start changing as we get more North East winds, Shorter days, and hopefully cooling temps.
FALL, is on our heels so get your day booked. Gather up the kids, Your ole fishing buddy and let's go.
Prices right now are still at "Summer Rates". They change as I need to bring 10 dozen live shrimp, because the TROUT are chewing. So get in on the best charter Rates in Jacksonville Florida!
Safest boat, high sided, loads of real fishing room. Or as I call it "dancing with the rod" room.
Target Species:

Redfish, Sharks, Jacks, Croakers, Flounder
More Fishing Reports: