GATOR TROUT TIME in NE Florida
Capt. Dave Sipler
January 2, 2014
Jacksonville - Saltwater Fishing Report

It's taken awhile. And as of this writing the inlet is still spotty with Trout days.
But that's why we have the whole river!

Here I am happy, and doing the TROUT dance:
Video: http://youtu.be/3tHdZy9-NPM
Then, right before Christmas:
Video: http://youtu.be/k1BvPP5-sZQ
Yes, last year I already had (personally) 6-8 pounders at the inlet (Mayport Jetties)


Not this year...We've been in and out of perpetual
summer like weather.
Not sure if the giant Gators got the memo that they need to go
E-A-S-T.
Last year first week of December MONSTERS
And one day we even had "Bonita's
back at the inlet. But not so this December.
So, the nice weather may have mixed things up a bit.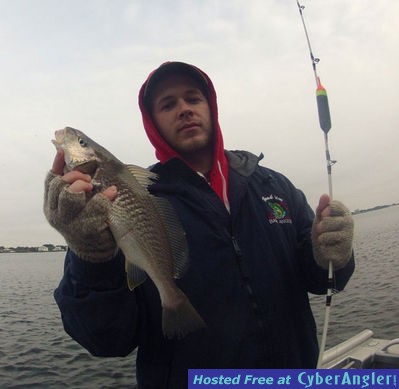 I'm used to nothing ever being the same. Not even close. It's part of the fishing life here in Jacksonville.


So, I shifted gears. The Jettywolf went hunting the river versus the jetties.


DO YOU WANT NO LONG BOAT RIDES?
THEN CALL ME. LINES IN THE WATER FAST, AND THAT MEANS MORE FISHING.
www.captdaves.com - since 1996.


Your full-time 365/ 12 months a year Jacksonville Sportfishing charter/Guide/boat for hire.
-Park to Park tours
-Burials at Sea
-Special Kids trips
-Name your own price
-Crew Hauling
More Fishing Reports: