Inshore/nearshore report Jacksonville area waters
Capt. Bob Cosby
February 10, 2013
Jacksonville - Saltwater Fishing Report

Even in the dead of winter you can usually find productive inshore fishing here in Northeast Florida. The shallow creeks respond to temperature changes quicker than the deeper river. This means on cold mornings I like to fish the river first and the creeks after the sun warms them a little. The water is generally more clear in winter because the algae dies off. Sometime you can see redfish or sheepshead swimming in the shallows or near oyster beds.
Our main winter fish include reds, speckled and yellowmouth trout, sheepshead, black drum, bluefish, whiting and ring tail porgies. Reds can be found at the jetties, along the edges of the intracoastal waterway, and the creeks depending on the conditions. The trout are suckers for a properly presented frisky live shrimp, mud minnow, or artificial bait.
Sheepshead and ringtails are best caught on fiddler crabs or shrimp near rocks or pilings; black drum on cut blue crab fished deep in the river or creek bends. Bluefish are pretty much everywhere in our waters and will hit bait or artificials. Whiting are usually caught within a mile of the beach fishing with fresh dead shrimp on the bottom.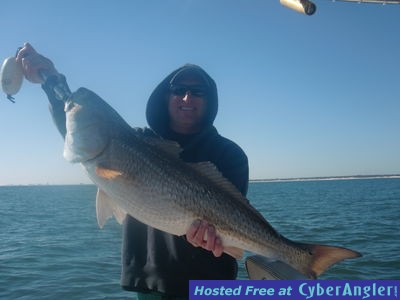 The fishing is usually best on warmer days between cold fronts when the winds are lighter. If you want to try something different, try inshore fishing here in NE Florida!
Tight lines!
CAPT Bob Cosby

More Fishing Reports: