Inshore/nearshore report Jacksonville area waters
Capt. Bob Cosby
July 5, 2013
Jacksonville - Saltwater Fishing Report

JULY, 2013

Here we are in the thick of summer and the fishing has been red hot! The king mackerel have been biting well on the beach, along with bonita, big jacks, and the occasional cobia and even sailfish. The sharks are behind the shrimp boats, and provide big fish thrills without having to run too far or wait too long for the action to begin. A leaping, spinning, 100 lb. blacktip shark is not unlike its highly prized cousin the mako shark more often caught in northern offshore waters.
Tarpon have arrived also, and can surprise an angler at any time hitting a live shrimp, pogey, or lure. I once had a customer hook a 75-100 lb. tarpon far up an ICW creek dragging a mud minnow on 10 lb. test spinning tackle. That fish led us on a 45 minute joy ride north in the ICW interspersed with numerous leaps before finally parting the leader. They can intentionally be caught around pogey pods, by setting up a chum line, or using mullet around jetty tips or inlets.
Flounder are biting pretty well, though most are on the small side. Reds are at the jetties, and in the creeks. Some bull reds are in the river and will hit on cut ladyfish, pogies, crab, etc. Speckled trout are available, along with hard fighting jacks, ladyfish, and bluefish. There are even some good eating sheepshead around.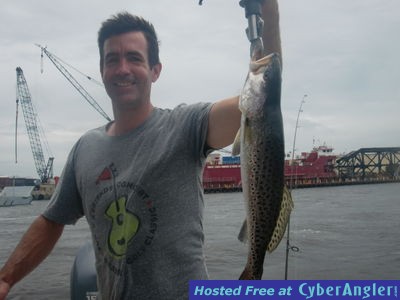 Surf fishing provides a simple, low cost style of fishing that can be a lot of fun for a beach loving family. Right now whiting, sharks, bluefish, sand trout, catfish, drum, and the occasional pompano are likely catches. When I have a break in my boat charters, I sometimes do surf fishing charters for families.
Schedule some time to enjoy fishing while visiting our beaches!
Capt. Bob Cosby
More Fishing Reports: