Instant FUN
Capt. Dave Sipler
September 13, 2013
Jacksonville - Saltwater Fishing Report

When is the last time you went fishing and made a quick 10 minute ride, tossed out a few baits, and was hooked up on light tackle with a drag screamer?
I call it "instantaneous gratification".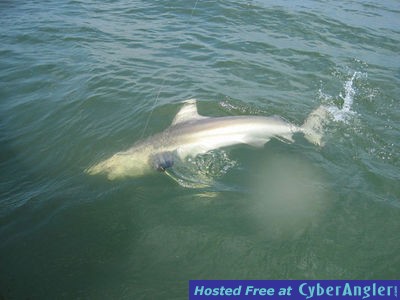 Between the Mayport Jetties and a 1/2 miles outside the inlet the shark action has been crazy fast!
Then, after everyone had their arms torqued a bit. The sun isn't even high in the sky yet.
We slip on back to the inlet and then we can kick back and catch Redfish, Drum, Mangrove Snappers, Croakers...
Or even larger, heavier, Sharks. The kind that eat Redfish for lunch! Or Hook up a Tarpon.
IT'S THAT TIME OF YEAR FOLKS!
THE BIG MULLET ARE ARE FILTERING THEIR WAY OUT THE INLET. AND A LOT OF HUNGRY MOUTHS ARE WAITING.
AND IT'S GOING TO GET EVEN BETTER AS WE GET CLOSER TO OCTOBER.
ADD IN MONSTER REDFISH IN THE SPAWNING MODE!!!
Just the other day I was heading back to the dock and as I pulled up and tossed my dock line around the cleat, I looked over and saw a 20 pound Redfish floating dead by the dock. I looked closely at it and it had no tail. It was bit, clean off.
CHECK OUT THIS VIDEO:
http://youtu.be/pMwniGNujz0
That has happened to us too. Many times we're reeling those Redfish to the boat and JAWS comes up and snatches it.
I caught the largest shark of my life that same way. I was fishing the end of the north jetty at the inlet by myself. I caught a large Redfish and was fighting it to the boat. Up from the 40 foot depths, I saw a large dark figure. As my hooked Redfish got yanked on and then much lighter.


I pulled up a head of a approx. 32" type Redfish.
Thinking quick, I grabbed a shark leader of 200# mono, and a 14/0 circle hook, tied it on a heavy rod, pinned that Redfish head on thru the eyes, and dropped it over the side and feed line as it sunk in the current.
Not 5 minutes passed before the rod in the holder bent over in the shape of a horse shoe and the line peeled off the reel.
Almost 2 hours later I finally whooped a giant, Redfish eating monster. It was 8' long and big and broad. A shark I have not ever caught before. So I called over a buddy of mine who was re-anchoring via the VHF radio. He just happened to be a commercial fisherman for 40 years out of Mayport Florida, and long-lined for Sharks.
He came over quickly and pulled along side of my boat, and said..."So, that's what all that whoopin was about, huh? I saw ya and figured you were into a man eater."
I said, "So what kind is it?" Capt Randall replied, "Ya did good Capt Dave, that's about a 300 pound Bull Shark!" A heck of a solo catch!"
I leaned over and cut the frayed up leader. And sat down in exhaustion.
CHECK OUT THIS VIDEO:
http://youtu.be/2Uj_9EHsVds
-------------------------
With that story told. This is what lurks around the Mayport Jetties during the Redfish spawn, while the big mullet migrate.
AND WHILE "WE" NEED TO BE OUT THERE AND READY!
I'm ready.
****** Are you?
www.captdaves.com - Jacksonville's Best Inshore fulltime Guide/Charter service, since 1996.
Check my website for daily reports.
Jacksonville Fishing Forecast:

I think the report said it all...
Also: 2 hour KIDS TRIPS, for the little anglers.
up to 4 persons: $200 two hours. Fishing for the smaller kids under 10 years old. A great Trip!!
Target Species:

Sharks, Redfish, Croakers much more coming this fall
More Fishing Reports: