Got to Love the Kid's!
Capt. James Howard
August 4, 2009
Jacksonville - Saltwater Fishing Report

There is nothing more fun than having a couple of young eager kid's on a charter. It doesn't take a lot of big fish but a lot of action will keep them happy…

On a trip last week with Ronnie Letto and his nephews Trent and Jason Stukes who were 5 and 8 years old it was all about some action for the kid's.


We were working shrimp and mud minnows in the creeks and catching mostly small Red fish but that was ok with them. We did manage to boat one nice Red fish and lost another.


Keeping it simple with the really young ones is key as far as I'm concerned. Soaking baits around oyster mounds and waiting for the bite. We also went to a deeper hole in the river and caught a quite a few Weak fish (AKA) Yellow mouth Trout. They are not real big but fun to catch…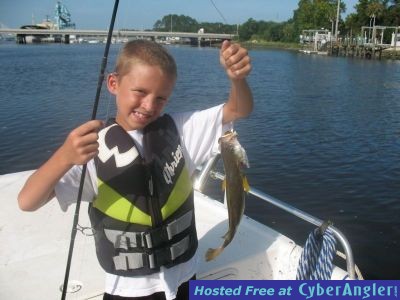 I'm not sure how many fish the kids caught but they sure seemed to know who had the most and how many pieces of gum they would get from there uncle. He had offered to give them a stick of gum for each fish or something like that!
Thanks for a great time guy's
Capt. James Howard inshore charter fishing Jacksonville Florida
(904)651-9557 www.gofishjax.com

Jacksonville Fishing Forecast:

Reds of all sizes are chewing great. Lots of nice Trout in the river and quite a few Flounder.
Capt. James Howard inshore charter fishing Jacksonville Florida. (904)651-9557
Target Species:

Reds/Trout /Flounder/Jacks/Weak fish
More Fishing Reports: