Come May.......
Capt. Dave Sipler
March 16, 2017
Jacksonville - Saltwater Fishing Report

Last "Mother's Day" I took my Mom out to a close reef. A set of scattered lime rock ledges. She bottom fishing with light gear and had a ball pulling up Porgies and small Red Snappers on shrimp that I cast netted on the beach. JUMBOS!
But no "pogies". My intended target.
While we were out there, she was amazed at all the baitfish and as we drifted a few spots, she said, "What are all these huge fish following us?"
I told her, "Spadefish". Kinda tough to catch, as they are Jellyfish eaters.
As we drifted from one spot to another, and then eventually anchored up. They were around the boat, a good 75% of the day.
Some looked to be 20 pounders.
I've caught a few 10 pounders back in my offshore bottom fishing crazed days, but haven't even attempted to give them a try. If offshore in the summer I'm usually concerned with really big Sharks and Cuda's....I use the Cuda's as bait.
BIG SHARK VIDEO: https://youtu.be/baOv2AFK5Zg?list=PLK-ee3q-bFR01xfQ7IPegllOqkfvAlKrJ
Too make a long story short...
This year it'll all be about "those friendly Spadefish"...
How? I'll leave a secret for now.
But, if they swim around us. I bet we'll fill the boat with them.
-No size limit
-No bag limit
Stand by and watch when it happens.
SUBSCRIBE to my Youtube channel:
www.youtube.com/c/captdavessportfishing" target="_blank">https://www.youtube.com/c/captdavessportfishing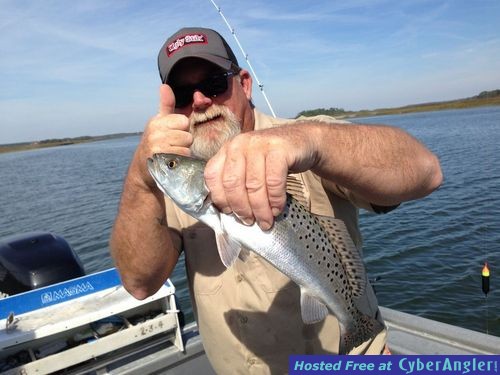 Jacksonville Fishing Forecast:

RIGHT NOW?
3/16 - super windy and cold...front passed thru.
and it's all about, BIG GATOR TROUT FISHING.
Target Species:

Speckled Sea Trout, targeted species!
More Fishing Reports: